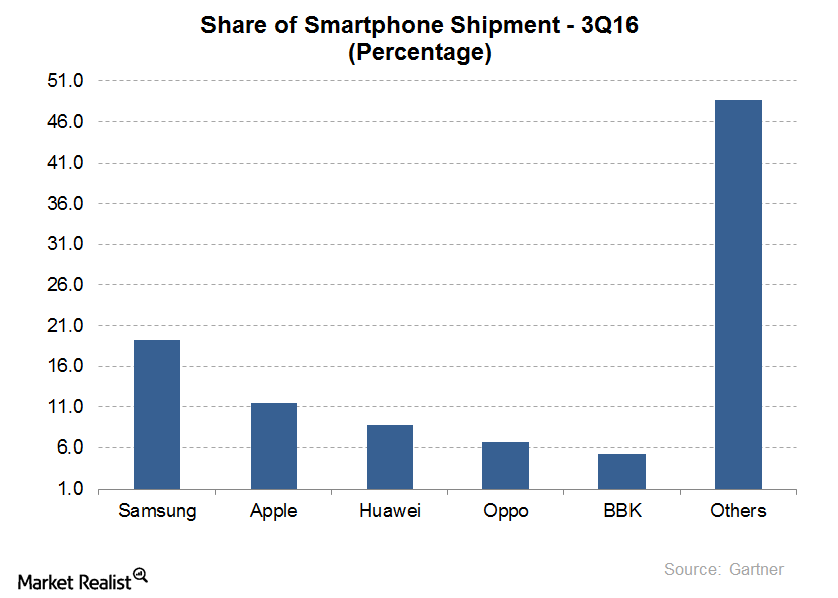 Will Apple Survive Nokia's New Patent Lawsuit?
By Ruchi Gupta

Jan. 9 2017, Published 3:43 p.m. ET
Dispute erupts over 32 patents
Apple (AAPL) and Nokia (NOK) are again headed for a legal clash over patent disputes. The last time the companies fought a patent war was seven years ago. They reached a settlement in 2011, and Apple had to pay ~$720.0 million to Nokia.
In the latest case, both companies have sued each other, with Apple claiming that Nokia is trying to extort money from it and Nokia alleging that Apple wants to use its patents unfairly. Apple filed its lawsuit against Nokia in the United States. Nokia filed two lawsuits against Apple, one in the United States and one in Germany (EWG).
This new Apple-Nokia patent dispute has erupted just when Apple is struggling to grow its share of the smartphone market.
Article continues below advertisement
Did Nokia do an end run around Apple in the last agreement?
It turns out that Nokia may have done an end run around Apple when the companies reached a patent settlement in 2011. According to Apple, Nokia excluded certain patents from the 2011 deal and transferred them to third-party companies with hopes of using them in the future to demand more royalty payments from Apple. Apple calls that an act of extortion and wants Nokia stopped from pressing for more payments.
But Nokia claims that Apple frustrated the situation for years when the two companies tried to reach an agreement over the disputed 32 patents. Nokia says Apple's refusal to agree on the patents led to filing the lawsuit to fight for its rights.
Pressure to prove a point
While Apple is under pressure to return to growth, Nokia wants to prove to investors that its patent unit, Nokia Technologies, can be relied on to drive growth.
Nokia is returning to the phone business two years after selling its devices unit to Microsoft (MSFT). However, Nokia will only be licensing its brand the way BlackBerry (BBRY) does.