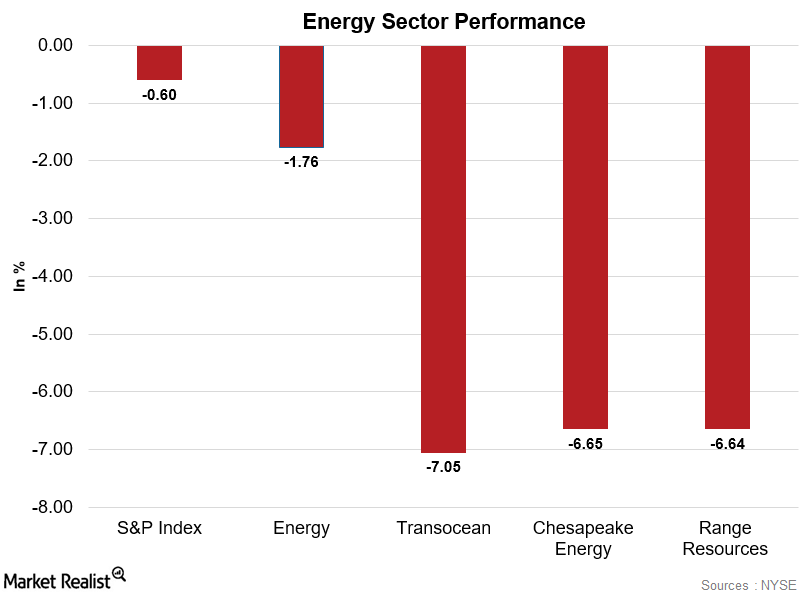 Why Did Transocean, Chesapeake, and Range Resources Fall?
By Val Kensington

Jan. 31 2017, Published 8:01 a.m. ET
Energy sector
After falling 0.55% last week, the S&P 500 Energy sector started the week on a weaker note. On Monday, the energy sector fell 1.8%. Energy companies lost strength due to weakness in the energy space amid speculations of rising US oil production. Weakness in the markets due to President Trump's immigration ban also weighed on the index. Transocean (RIG), Chesapeake Energy (CHK), and Range Resources (RRC) were the biggest losers in the energy sector on Monday.
Article continues below advertisement
Transocean, one of the largest offshore drilling contractors, fell 7.1% on Monday. Crude oil above $50 raised the profitability factor for offshore drillers. Since the election, Transocean has risen more than 50%. Read Why Offshore Drilling Stocks Skyrocketed in the Last 3 Months to understand what triggered the rally. Slight weakness in the oil market amid speculations about the successful execution of agreed output cuts along with weakness in the stock market increased investors' caution.
Chesapeake Energy (CHK), one of the major petroleum and natural gas exploration and production companies, fell 6.7% on January 30. On Monday, Chesapeake Energy fell for the third consecutive trading day. It reached the lowest levels since the end of November due to weakness in the sector. Read Chesapeake Energy: Analysts' Recommendations for the Stock for analysts' recommendations for Chesapeake Energy.
Range Resources, a petroleum and natural gas exploration and production company, fell to $33.34—the lowest level in three weeks. According to recent reports by Range Resources, its proved reserves rose 22% in 2016. According to the company, most of the increase is from its Marcellus shale assets. Range Resources expects another increase in proved reserves due to its fresh acquisitions in northern Louisiana.