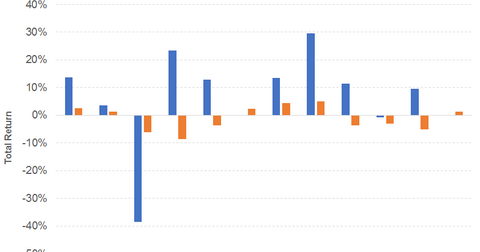 What Is the Outlook for Muni Bonds in 2017?
By VanEck

Updated
VanEck
The Bottom Line:
This year's potential January Effect, manifested in a rise in asset prices, could look more pronounced than usual—thanks to a confluence of various factors, most notably investors' need to redeploy an unusually large amount of cash, augmented at the end of 2016 from opportunistic tax-loss selling. The Fed's decision to raise rates also contributed to this tax-loss selling.
We will, however, have to wait for several weeks to see what happens.
Article continues below advertisement
Market Realist
          Outlook for muni bonds
Many investors look to stock performance in January to predict results for the whole year. However, the January results haven't been representative of the true scenario in four out of 11 years, as the below chart shows. The January Effect for the S&P 500 looks positive so far. Despite the negative performance of the energy and financials sectors in the past one month, there is still potential for improvement once Donald Trump takes office.
Morgan Stanley has quite aptly stated that with the limited supply of bonds in the market after the post-election sell-off, if US Treasuries continue to sustain the present yield or record significant growth along with outflow of municipal bond mutual fund flows then that can lead to materially better entry points for potential municipal bond buyers in the upcoming weeks.
2016 saw a gross issuance of $445 billion, breaching the $433 billion target of 2010 in municipal bonds (ITM) (TFI) (PZA). December recorded a 25% year-over-year drop in volume driven by the reshuffling of deals before the elections and the Fed meeting.
Muni bond projection
Morgan Stanley has projected a gross issuance $333 billion and 10% thereof towards net issuance of municipal bonds in 2017. Municipal bonds coupled with long-term call options enable investors to refinance bonds. Bond refinancing serves as an important debt management tool to save on interest costs, eliminate onerous bond covenants, or reshuffle the stream of debt service payments to prevent evasion or undesirable taxation. Donald Trump has already assured his positive stance towards the tax-exempt status of municipal bonds at a conference of US mayors. Tax exemption contributes to the building of schools, roads, and hospitals, and it adds valuable jobs without burdening middle-class taxpayers, according to Steve Benjamin, mayor of Columbia. All eyes are set on January 20, 2017, when Donald Trump will assume office.