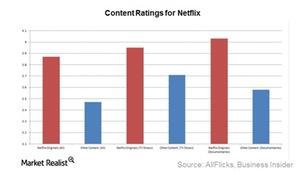 Why Netflix Plans to Continue to Focus on Original Content
By Shirley Pelts

Updated
Netflix continues to lease space
Netflix (NFLX) plans to continue to focus on original content. According to a Business Wire press release from Hudson Pacific Properties (HPP) on January 6, Netflix signed a lease for space of around 91,953 square feet at Hudson's new office building, CUE. Last year, Netflix leased 99,250 square feet from Hudson at Sunset Bronson Studios for production work.
These deals indicate the growing importance of producing original content for Netflix. Netflix believes that original content targeted at various user groups will drive up viewing hours and make viewers watch shows repeatedly, resulting in more subscriber events. The company intends to produce 1,000 hours of original programming in 2017.
Netflix expects to spend ~$5 billion on content acquisition in 2016 and $6 billion on content in 2017. Currently, 10% of its content spending is on original content. The company would like to raise that amount to 50%.
Article continues below advertisement
Why original content?
Netflix believes original content will strengthen its brand and drive up viewing hours. Netflix is aiming for 600 hours of original programming in 2016 and intends to take this up to 1,000 hours of programming in 2017.
Currently, Netflix holds the content licensing rights to its original content, but this original content is produced by outside studios such as The Walt Disney Company's (DIS) ABC Studios. Producing original content would give Netflix global distribution rights and could add to its revenue in the long term.
In its fiscal 3Q16 earnings call, Netflix stated that, on a financial basis, it would like to produce its own content. However, when another media company owns the intellectual property (or IP) to a popular show and Netflix would like to offer the show to its subscribers, the company has no option but to obtain the license to show the content.
According to an April 2016 Business Insider report, citing research from AllFlicks, Netflix's original content has an average rating of 3.9 out of 5. According to the report, Netflix Originals perform 11.5% better than other content.