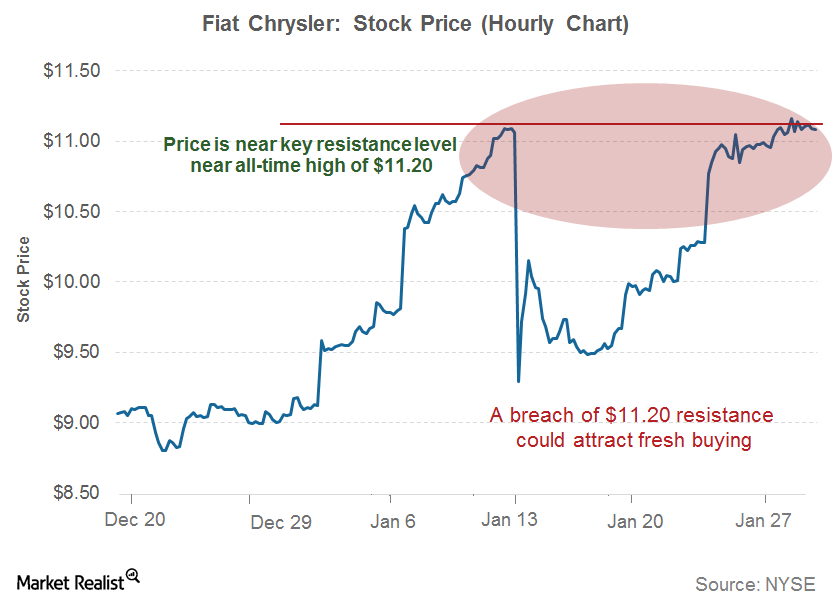 Why Did Fiat Chrysler Stock Rise More than 10% Last Week?
Fiat Chrysler Automobiles
So far in this series, we looked at recent updates and stock performance of Tesla Motors (TSLA), General Motors (GM), and Ford (F). Last week, Ford and General Motors remained mixed on Wall Street. However, Fiat Chrysler stock rose more than 10%. Let's explore what the primary reason could be for Fiat Chrysler's impressive gains on Wall Street.
Article continues below advertisement
4Q16 earnings
On January 26, 2017, Fiat Chrysler released its 4Q16 results. For the quarter, it reported strong adjusted EPS (earnings per share) of 0.27 euros, or $0.29, which was about 68.0% higher than 4Q15. However, it was much lower than analysts' estimate of 0.42 euros, or $0.45.
Fiat Chrysler's rising profitability and improving debt could be two primary reasons that investors remained optimistic. With these factors, the company also came closer to its 2018 targets.
Read Market Realist series Fiat Chrysler's 4Q16 Results: Coasting Toward 2018 Targets? to learn more.
Key technical levels
On Friday, Fiat Chrysler settled at $11.08. The price is trading close to its all-time high near $11.20. It could continue to act as an immediate resistance level. The stock is trading above its 200-day moving average, which reflects underlying bullishness for Fiat Chrysler stock. On the downside, an immediate horizontal support lies near $10.80.
General Motors and Tesla will be releasing their 4Q16 results in the next few weeks. Visit Market Realist's Autos page for reviews of auto companies' 4Q16 results and other auto industry (XLY) updates.