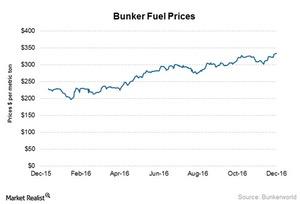 How Did Bunker Fuel Prices Fare in Week 3 of 2017?
By Sue Goodridge

Jan. 26 2017, Published 10:12 a.m. ET
Bunker fuel prices in week 3
In the previous part of this series, we saw how crude tanker rates fared in week 3 of 2017. Now, we'll shift our focus to the cost side of the crude (DBO) tanker industry. We'll look at how bunker fuel prices performed in week 3.
Article continues below advertisement
Bunker fuel
Bunker fuel is one of the highest costs for crude tanker companies. It's closely related to oil prices. Lower crude oil prices translate into lower bunker fuel costs. Also, lower crude oil prices encourage countries to import larger quantities of cheap oil to store for future use. It increases crude oil tanker demand.
Bunker fuel prices fell
Bunker fuel prices, the largest cost to run a ship, correlate with crude oil prices. On January 19, 2017, the average bunker fuel price was about $357 per ton—compared to $361 per ton on January 12.
In terms of major ports, bunker prices at Rotterdam were $305 per ton on January 19—compared to $308 per ton on January 12 and $300 per ton in the previous month. At the Port of Fujairah, bunker prices were $334 per ton on January 19—compared to $336 per ton on January 12 and $324 per ton in the previous month.
Who's impacted?
Lower bunker prices reduce operating costs and boost profits for companies such as Frontline (FRO), Teekay Tankers (TNK), Tsakos Energy Navigation (TNP), Nordic American Tankers (NAT), DHT Holdings (DHT), Gener8 Maritime (GNRT), Navios Maritime Midstream Partners (NAP), and Euronav (EURN).
Bunker fuel prices also impact the costs for product tankers and dry bulk shipping companies such as Navios Maritime Partners (NMM). Liquefied natural gas carrier companies such as GasLog (GLOG) and Golar LNG (GLNG) are also impacted by bunker fuel pricing.