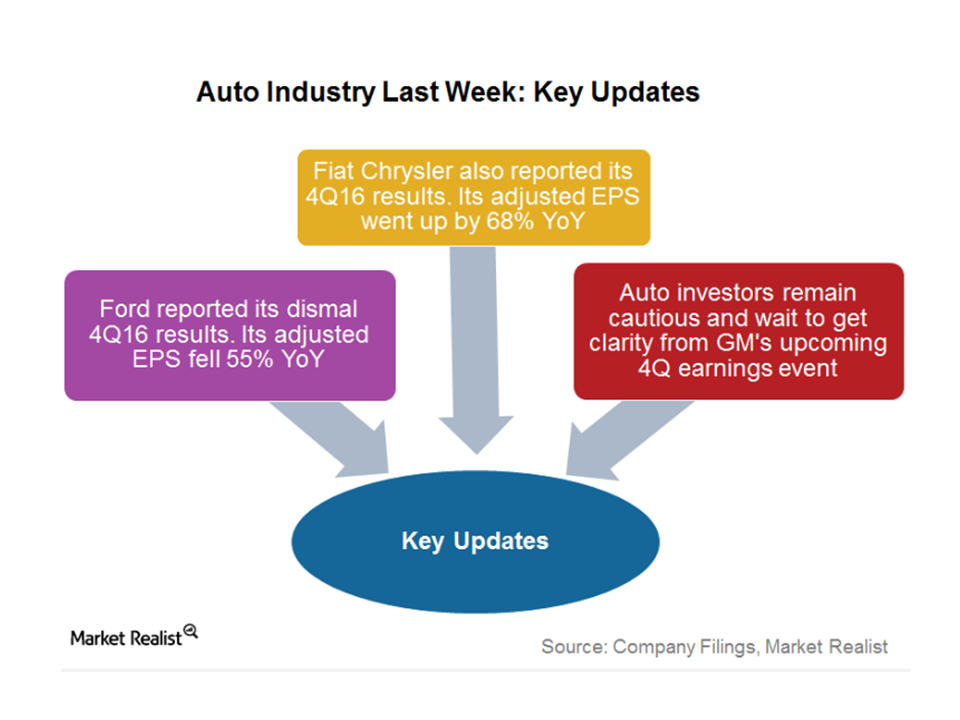 How Are Auto Stocks Performing in the Midst of 4Q16 Earnings?
By Jitendra Parashar

Nov. 20 2020, Updated 5:16 p.m. ET
Broader market
Fiscal 2017 started on a mixed note for the broader market. Investors' mixed sentiments could be driven by several factors including the impact of the recent interest rate hike, political changes in the country, and 4Q16 results. So far in January, the S&P 500 Index (SPY) managed to rise 2.5%. Let's take a quick look at how automakers stocks are performing in the midst of the auto industry's 4Q16 results.
Article continues below advertisement
Auto stocks in the midst of 4Q16 earnings
As of January 27, 2017, auto stocks outperformed the broader market this month. General Motors (GM) and Ford (F), the two largest US automakers, have gained ~6.2% and 3.0%, respectively.
Last week, Fiat Chrysler Automobiles (FCAU) and Ford announced their 4Q16 results. On January 26, the day of Ford's earnings release, its stock fell 3.3%, while Fiat Chrysler stock rose 0.7%. While Fiat Chrysler's improving margins and debt condition kept optimism alive on Wall Street, Ford's dismal earnings continued to haunt investors.
Other notable automakers including General Motors and Tesla (TSLA) will announce their 4Q16 results in the next few weeks. Last week, General Motors remained mixed and ended the week without any change from the previous week's closing. Investors' fear about the possibility of US auto sales being at their peak could be the main reason for mixed sentiments.
Series overview
Read All You Need to Know about US Auto Sales in 2016 to learn about mainstream automakers' 2016 sales.
In this series, we'll review auto stocks' recent Wall Street performance. We'll find out what technical analysis is suggesting for them. We'll explore what major developments took place in the auto industry in the last few weeks. We'll also look at some key technical support and resistance levels for these companies for the week ahead.
In the next part, we'll start by looking at Tesla Motors' (TSLA) stock and its recent updates.