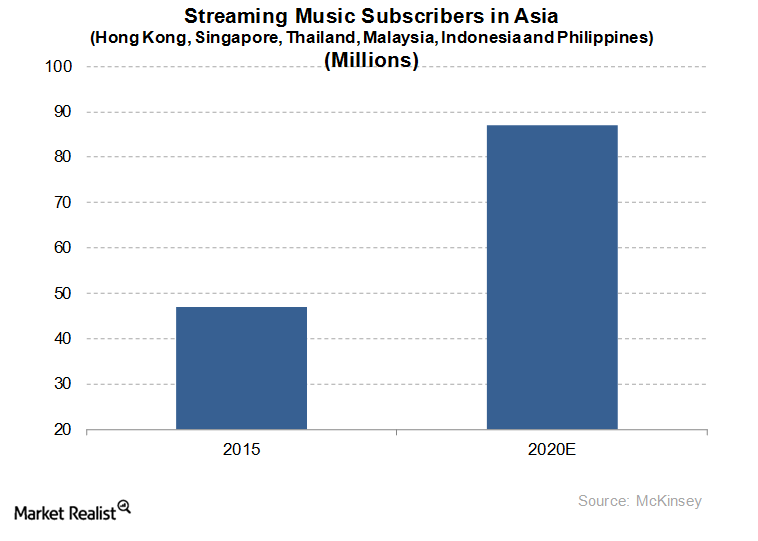 Why Apple Music Could Struggle in Asia
By Ruchi Gupta

Nov. 20 2020, Updated 5:17 p.m. ET
Tencent is expanding its Joox music service to more Asian markets
Apple (AAPL) and Spotify could face difficulties growing their streaming music services in Asia as Tencent (TCTZF) moves to popularize its Joox streaming music service in the region. Tencent has announced plans to take Joox music to more Asian markets including India. The service is already offered in Hong Kong, Thailand, Malaysia, and Indonesia.
Streaming music subscribers in Singapore, Hong Kong, Thailand, Malaysia, Indonesia, and the Philippines combined could almost double to 87 million by 2020 from 47 million in 2015, according to research firm McKinsey.
Article continues below advertisement
Muddying the music waters for Apple and Spotify
Tencent's music ambitions will muddy the waters for Apple Music and Spotify in key Asian markets. Spotify is available in several Asian markets including Singapore, the Philippines, Malaysia, and Taiwan, while Apple Music is also available in six of Asia's largest markets including Japan and Hong Kong.
Because Tencent understands the Asian market better than its foreign rivals, it could make it difficult for Apple and Spotify to convince subscribers in the region to pay $10 a month for their music services.
For instance, Tencent knows that Asian listeners aren't very willing to pay for streaming music services. Ad rates in Asia are also lower than in the US and Europe. As a result, instead of charging listeners ongoing subscription fees, Tencent is planning to introduce new monetization methods like selling digital currencies.
Measures to diversify revenue streams
For Apple, digital music is one of the several new businesses the company is trying as it works to diversify its revenue streams. The company currently relies on iPhone sales for the bulk of its revenues and profits, but Apple's smartphone business has come under increasing pressure from Samsung (SSNLF), Alphabet (GOOGL), Microsoft (MSFT), and Chinese brands Huawei and Oppo.