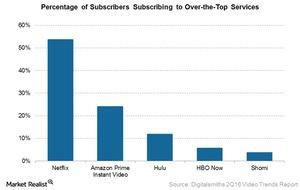 Will AT&T's DIRECTV Now Be a Threat to Comcast?
By Shirley Pelts

Updated
Over-the-top services and Comcast
Millennials increasingly prefer to watch content online. This trend has allowed new players to enter the market, making it difficult for pay-TV companies such as Comcast (CMCSA) to retain their subscribers.
Hulu is another player that plans to launch an online television service in 1Q17. AT&T (T) has also launched its DIRECTV Now service, priced at $35, which offers around 100 channels.
Comcast was asked about how it viewed the DIRECTV Now service as a competitor to its video business at the UBS Global Media and Communications Conference. Comcast stated that it's always been prepared to meet the rising competition in the video business via product offerings based on market segmentation and content investment, including the acquisitions of "stacking rights" and "TV Everywhere rights." As a result, the company doesn't view DIRECTV Now as a threat.
Comcast also stated on its 3Q16 earnings call that ~20 million homes in the United States don't subscribe to any pay-TV providers. The company indicated that considering that new over-the-top services hold the promise of gaining new subscribers, the trend would benefit its content distribution arm.
Article continues below advertisement
Rising trend of online television services
As the popularity of streaming services such as Netflix (NFLX) grows, viewers are watching more and more content online, because it's cheaper. A cable bill could be ~$100 or more per month, while a basic Netflix plan costs only ~$8 per month.
According to Digitalsmith's 2Q16 video trends report, and as the chart above shows, Netflix leads the OTT (over-the-top) market with a share of around 54%, followed by Amazon (AMZN) with a 24% market share. Hulu, Time Warner's (TWX) HBO Now, and Shomi are smaller players in the market. However, given Hulu's proposed online television service, the streaming market could be poised for an upheaval.