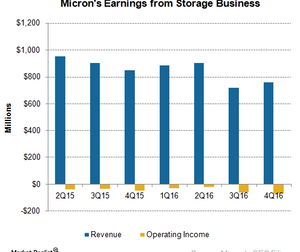 Can 3D NAND Pull Micron's Storage Business Out of the Red?
By Puja Tayal

Dec. 22 2016, Updated 7:35 a.m. ET
Micron's Storage Business Unit
Micron Technology (MU) is shifting its product mix to the high growth markets of storage and embedded. In storage, the company is focusing on SSDs (solid state drives), whose shipments are expected to grow by 81.8% in fiscal 2017, according to Korea Investment & Securities.
Micron's SBU (Storage Business Unit) supplies memory products into the enterprise, client, cloud, and removable storage markets. It also includes products sold to Intel (INTC). The segment accounted for 16% of Micron's revenue in fiscal 4Q16.
Article continues below advertisement
SBU earnings
The SBU segment's revenue fell 20% sequentially in fiscal 3Q16 and recovered slightly in fiscal 4Q16 as Micron was transitioning from 2D NAND to 3D NAND. But the transition increased the cost per bit while NAND price continued to fall. This pushed the segment into losses. Its operating loss widened from $62 million in fiscal 3Q16 to $69 million in fiscal 4Q16.
Intel and Toshiba (TOSBF) were also reporting losses as they transitioned to 3D NAND, and now this transition is causing a supply shortage of NAND for SSDs. Despite this, the demand for SSDs is growing in the notebook and data center spaces.
Micron earned 18%–19% of its DRAM (dynamic random access memory) revenue and 13% of its NAND revenue from the SBU in fiscal 4Q16. In fiscal 1Q17, DRAM growth will likely be driven by the launch of Intel's Broadwell CPU (central processing unit), which uses 55 megabytes of DDR4 cache, while NAND growth will likely be driven by the rising adoption of SSDs by cloud computing firms.
Article continues below advertisement
SBU guidance
Micron has started shipping its 3D NAND TLC (triple level cell) SSDs for data centers and enterprises. This means that 3D NAND should contribute to Micron's earnings from fiscal 1Q17 onward.
The SSD adoption rate in the global notebook market has increased significantly and continues to grow, despite NAND supply constraints, which are causing NAND prices to rise. Pacific Crest expects contract price for 128 gigabytes NAND TLC to rise ~6% month-over-month in December 2016.
Several cloud computing firms are also adopting the all-flash array, thereby increasing the demand for SSDs. Some of these cloud computing firms include Hewlett Packard Enterprise (HPE), IBM (IBM), and NetApp (NTAP). Micron is working with cloud companies to develop future designs. Meanwhile, DRAMeXchange expects the price for client-grade TLC NAND Flash SSD to rise 6%–9% sequentially in calendar 4Q16.
Notably, Micron is in the final qualification stages with eight OEMs (original equipment manufacturers) for 1,100 client SSDs.