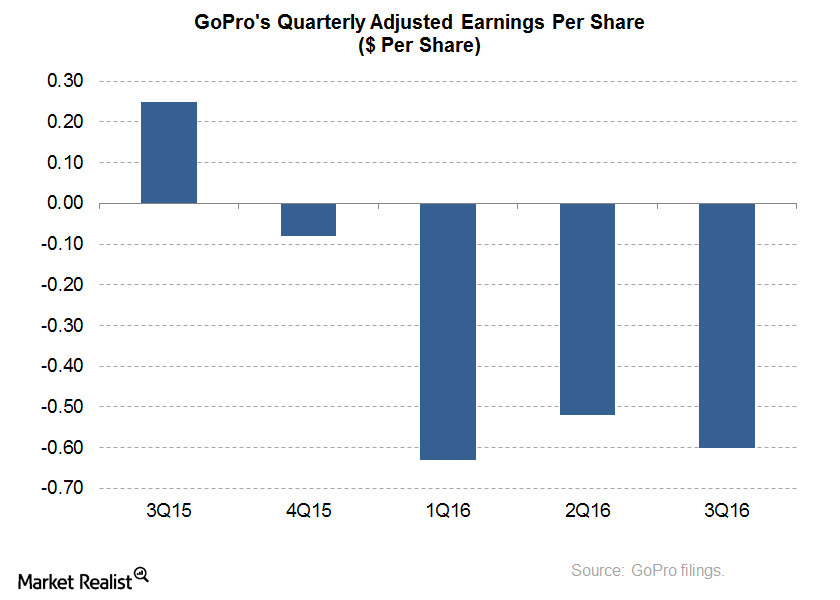 What's GoPro Losing in the Karma Drone Recall?
By Ruchi Gupta

Nov. 20 2020, Updated 12:39 p.m. ET
2,500 Karma drone units recalled
GoPro (GPRO) is fixing a problem that caused its Karma drone to lose power and fall from the sky. The company plans to resume the sale of the drone once the problem has been resolved. GoPro has recalled about 2,500 Karma drones that it had already sold to customers.
The company isn't only refunding the cost of the Karma but is also giving buyers a Hero5 Black camera for free. That's an attempt to say sorry for selling them a disappointing drone.
But the Karma problem has come at a difficult time for GoPro. The company's EPS (earnings per share) loss of $0.60 in 3Q16 was more than the consensus estimate of a $0.36 loss. The bottom line deteriorated from an EPS profit of $0.25 in the corresponding quarter of the previous year.
Article continues below advertisement
The cost of the Karma recall
The recall of the Karma drone will likely make a substantial financial dent in GoPro and put more pressure on the company. First, there's lost revenue. Assuming that the 2,500 Karma drones were purchased as bundles, which cost about $1,000 per package, lost revenue for the recall comes to more than $2.5 million.
That revenue loss doesn't account for lost market share. The absence of Karma has eliminated competition for rivals such as DJI, whose Mavic Pro drone is offered at a competitive price and boasts competitive features.
The cost of the camera giveaway
The Hero5 Black camera giveaway to apologize to Karma buyers will be a second financial hit for GoPro. With each camera costing $400, giving away 2,500 cameras means GoPro is losing ~$1.0 million.
However, GoPro hopes to more than recoup the costs of the drone recall if the return of the drone to the market is greeted with a massive success. But the company will have to contend with competitive pressure in the camera market from Sony (SNE), Canon (CAJ), Nikon (NINOY), and Olympus (OCPNY), especially in the holiday season.