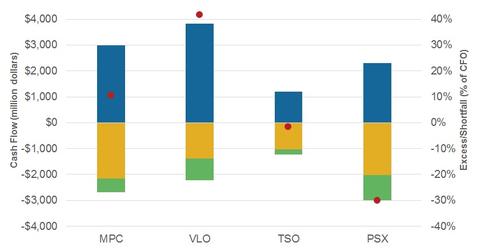 What Does Refining Companies Cash Flow Analysis Reveal?
By Maitali Ramkumar

Updated
Cash flow excess or shortfall?
Refining companies' earnings have been recovering from the lows witnessed at the beginning of 2016. However, they remain volatile. In such a scenario, companies' levels of cash flow from operations (or CFO) have also been volatile.
To be considered financially sound, a company's CFO should adequately cover its vital capital expenditure, including acquisition and turnaround costs and expected dividend outflows.
In the above table, we've analyzed refiners' cash flows to calculate how short or in excess their cash flows from operations are compared to their capital expenditures and dividend outflows. 
Article continues below advertisement
Valero Energy's (VLO) cash flow from operations in the first nine months of 2016 stood at $3.8 billion, and its outflows in terms of its capital expenditure and dividends stood at $1.4 billion and $0.84 billion, respectively. In this way, VLO's excess cash flow stood at $1.6 billion, putting it in a good cash flow position.
A cash flow comparison
The situation varies across sectors. While some companies are lagging with cash flow shortfalls, others are leading with cash flow surpluses. When cash flows are measured as percentages of companies' CFOs, the results show which companies are better placed to handle periods of tough refining environments.
VLO's cash flow excess as a percentage of its CFO stands at 42%. Comparatively, Marathon Petroleum's (MPC) excess stands at 11%. This shows that VLO's excess is quite high compared to MPC's, placing it in a relatively good position. Marathon Petroleum's cash outflows in the form of capital expenditure are higher than VLO's due to MPC's expansion activities. This difference could lead to higher CFO for MPC in the future.
Article continues below advertisement
We can conclude that from a cash flow analysis of refining companies in the first nine months of 2016, Valero Energy, with its higher cash flow excess, is better placed to face the volatile refining environment. For exposure to refining and marketing sector stocks, you can consider the SPDR S&P Oil & Gas Exploration & Production ETF (XOP). The ETF has ~19% exposure to the sector.