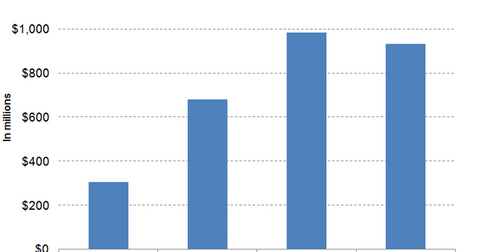 Pomalyst Still Dominates the Third-Line Multiple Myeloma Segment
By Margaret Patrick

Updated
Pomalyst growth trends
Despite competition from Johnson & Johnson's (JNJ) daratumumab in the fourth-line multiple myeloma (or MM) segment, Celgene's (CELG) Pomalyst has continued to witness strong demand across multiple markets. The drug has become a dominant player in the third-line MM segment.
Demand for the drug has also been on the rise due to the increasing duration of Pomalyst therapy as prescribed by physicians. The average duration of therapy with Pomalyst in the United States is ten months. To know more about the demand for Pomalyst, read Pomalyst Continues to Witness Strong Global Demand in 2016.
The above diagram shows the robust growth in Pomalyst's sales since 2013. The drug has strengthened Celgene's position and enabled the company to compete effectively with other MM players such as Amgen (AMGN) and Bristol-Myers Squibb (BMY).
Article continues below advertisement
Celgene also expects Pomalyst to benefit if the FDA approves the daratumumab, Revlimid, and dexamethasone triplet regimen as an MM therapy. Since the triplet regimen has demonstrated a progression-free survival duration of 40–50 months in the treatment of second-line MM patients, it may also be quickly adopted in the first-line MM segment.
Pomalyst's prospects in the second-line MM segment are therefore expected to improve, as the sequence of Revlimid and Pomalyst has been found to yield deep and durable responses in patients.
Label expansion
Celgene is also awaiting an FDA decision related to its application seeking approval for a combination regimen of Pomalyst, daratumumab, and dexamethasone for patients suffering with relapsed or refractory MM. FDA has set the Prescription Drug User Fee Act date for this indication in June 2017.
If Celgene manages to secure FDA approval for this indication, it could have a positive impact on the share price of the company as well as the price of the PowerShares QQQ Trust, Series 1 ETF (QQQ). Celgene makes up ~1.6% of QQQ's total portfolio holdings.
In the next article, we'll explore growth trends for Celgene's oncology drug, Abraxane.