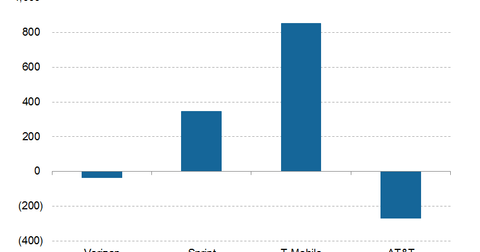 Identifying Trends in T-Mobile's Postpaid Phone Net Additions
By Ambrish Shah

Dec. 2 2016, Updated 10:04 a.m. ET
T-Mobile's postpaid phone net additions in 3Q16
In the previous article, we learned that T-Mobile's (TMUS) adjusted EBITDA (earnings before interest, tax, depreciation, and amortization) has risen significantly YoY (year-over-year) for the last few quarters.
T-Mobile's strong momentum has shown no signs of slowing down, with 851,000 postpaid phone net additions in 3Q16, up from 646,000 in 2Q16. T-Mobile reported its 11th consecutive quarter as the industry leader in postpaid phone net additions in 3Q16.
These strong results were positively influenced by its T-Mobile ONE plan, the launch of Apple's (AAPL) iPhone 7, and the continued migration of prepaid accounts to postpaid. 
The company's new T-Mobile ONE plan, its unlimited offering, which was launched on September 1, 2016, is driving customer additions. Since the plan's launch, ~80% of new postpaid phone account activations have selected the T-Mobile ONE plan.
Article continues below advertisement
The heavy promotional activity surrounding the launch of the iPhone 7 advanced T-Mobile's opportunity to gain market share. T-Mobile offered subscribers a free 32 GB iPhone 7 in exchange for an older model, which had to be fully paid off. Subscribers had to stay with the carrier for 24 months to receive the full credit of the device. If a subscriber leaves before 24 months, he or she is responsible for the outstanding balance of the new device.
T-Mobile's peer comparison of postpaid phone net additions in 3Q16
In 3Q16, AT&T (T) lost 268,000 postpaid phone subscribers. Verizon (VZ) lost 36,000 postpaid phone subscribers for the first time ever. However, postpaid phone net additions by Sprint (S) were 347,000, which came at the expenses of Verizon and AT&T.
Postpaid phone users, especially smartphone users, are of particular value for mobile carriers. Users of smartphones such as Google's (GOOG) Android or Apple's iPhone tend to have relatively high data usages, so they're the most lucrative customers for telecommunications companies.
Continue to the next article for a look at AT&T's prepaid subscriber net additions.