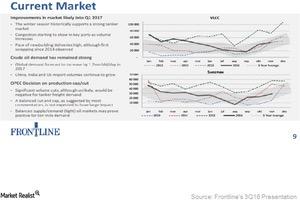 Frontline's Take on the Crude Oil Tanker Industry
By Sue Goodridge

Dec. 5 2016, Published 2:02 p.m. ET
Frontline's management
Robert Hvide Macleod, CEO (chief executive officer) of Frontline (FRO), said regarding the industry's condition in the third quarter, "While the summer is typically a slower period in the tanker markets, seasonal weakness was more pronounced this year as supply disruptions, easing refinery margins and inventory drawdowns led to reduced oil flows and a slowdown in tanker demand. In addition, the global fleet expended as newbuilding vessels were delivered from shipyards."
Article continues below advertisement
In Frontline's (FRO) 3Q16 conference call, management gave its insights into the outlook of the crude oil (DBO) tanker industry. These insights should help investors assess the outlook for Frontline (FRO) as well as its peers Teekay Tankers (TNK), Nordic American Tankers (NAT), Tsakos Energy Navigation (TNP), DHT Holdings (DHT), and Euronav (EURN).
The crude oil tanker market has shown some improvement since the end of the third quarter as crude tanker rates began to recover from their 24-month lows. The crude oil tanker industry is seasonal, and winters have traditionally been strong for the industry. Frontline expects the recovery to continue into the first quarter of next year.
Frontline points to some positive factors for the crude oil tanker industry:
Some congestion is experienced at ports as import volumes increase. Due to congestion, the supply of tankers tightens, which proves to be positive for tanker rates.
Higher inventories had a negative effect on the tanker industry in the third quarter, but now crude oil inventories around the world are falling.
Frontline believes oil demand is a key driver for tanker rates. It also believes crude oil imports to China, India, and the United States will continue to grow and demand for crude oil will remain robust. An increase in US crude oil imports increases the ton-mile demand. India is diversifying its import sources, which is expected to contribute to higher ton-mile demand.
In its 3Q16 earnings release, Frontline said it has a "positive long term outlook on the tanker market, although it expects periods of market weakness as further newbuildings are delivered."