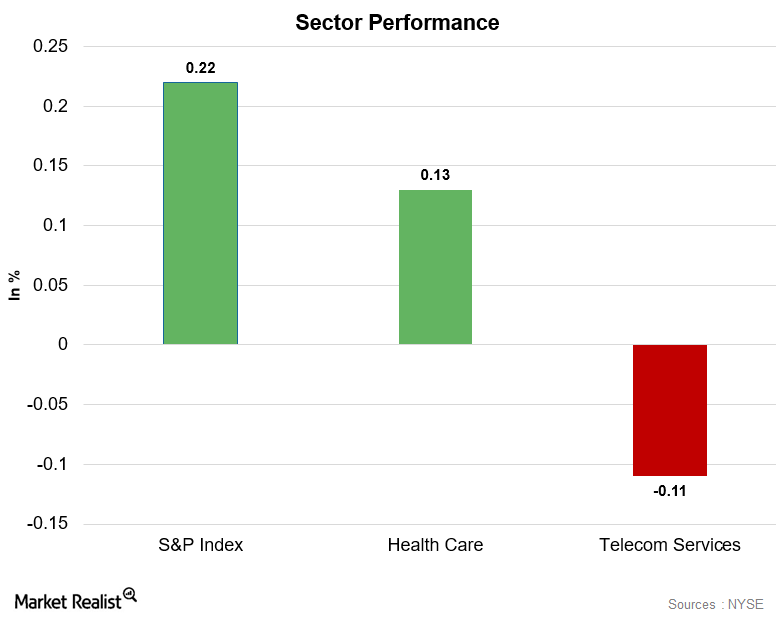 FDA Approves Spiranza, Ionis and Biogen Move Higher
By Val Kensington

Nov. 20 2020, Updated 2:28 p.m. ET
Health Care sector
After posting moderate losses last week, the S&P 500 Health Care sector rose 0.13% on December 27. The health care sector gained initially right after the US presidential election along with other major sectors. However, Donald Trump's comments on high drug prices and his take on the Affordable Care Act weighed on the health care sector.
On December 27, Biogen (BIIB) and Vertex Pharmaceuticals (VRTX) were the top performers in health care sector. Biogen is a multinational biotechnology company. It rose 1.3% on Tuesday. Spinraza is a drug for treating spinal muscular atrophy. It was developed by Ionis Pharmaceuticals (IONS) and licensed by Biogen. It was approved by the FDA. It pushed Ionis Pharmaceuticals and Biogen's prices higher on December 27.
Article continues below advertisement
Telecom Services sector
The S&P 500 Telecom Services sector fell 0.11% on December 27. The telecom services sector gained for three consecutive trading weeks. Currently, it's trading near the highest trading levels since mid-August 2015. Shenandoah Telecom (SHEN) and Vonage Holdings (VG) were the top performers in telecom services on Tuesday. Vonage Holdings is one of the leading providers of cloud communications. Hamid Akhavan has 30 years of experience in the telecom sector. Recently, he was appointed as a member of the board of directors.
Dividend Index
The Dow Jones US Select Dividend Index (DJDVP) tracks the performance of major dividend-yielding stocks in the US. On December 27, DJDVP rose 0.25%. On December 27, Waterstone Financial (WSBF) announced a hike in its quarterly dividend. The quarterly dividend rose 50% from $0.08 to $0.12. Guaranty Federal Bancshares is a community bank. It also announced an increase in the dividend. The quarterly dividend increased from $0.08 to $0.10—it rose 25%.