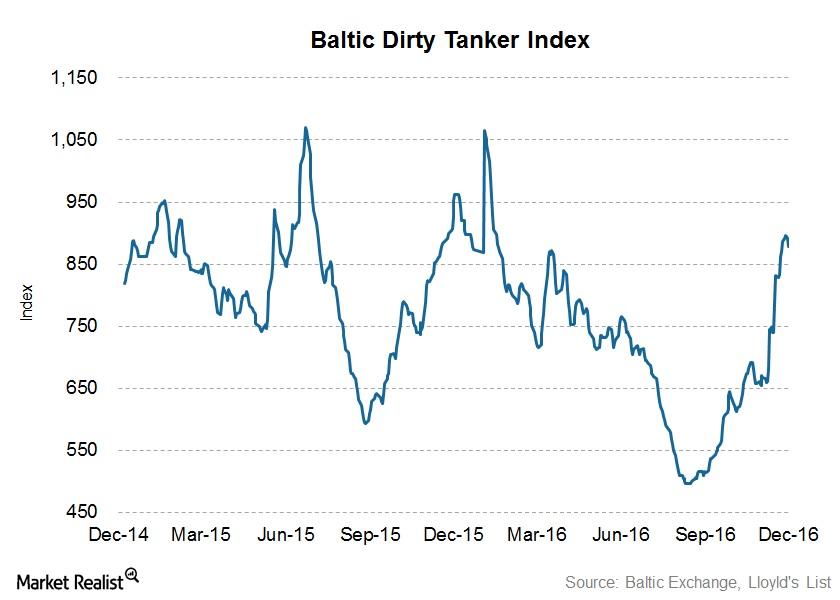 Why Did Crude Tanker Stocks Fall in Week 48?
Baltic Dirty Tanker Index
In week 48, which ended on December 2, 2016, the BDTI (Baltic Dirty Tanker Index) fell from 892 to 889. The index fell sharply by 13 points on Thursday. However, it recovered by 11 points the next day.
The BDTI tracks shipping rates for crude oil (DBO) on representative routes. Researchers and analysts follow the index to assess companies' revenues and earnings potential.
In week 48, the index was lower than the level last year. On average, the index was 4% lower than the same period last year. Since the crude tanker business is seasonal, it's important to look at its year-over-year performance.
Article continues below advertisement
Stock performance
It wasn't a great week for crude tanker investors. Below are the stock returns of crude tanker companies for the week ending December 2, 2016—compared to their prices the previous week:
Shipping companies account for 19.7% of the Guggenheim Shipping ETF (SEA). SEA had a 2% return during week 48. If you're interested in broad exposure to the industrials sector, you can invest in the SPDR Dow Jones Industrial Average ETF (DIA).
Series focus
We looked at tanker stock performances in week 48. Next, we'll see which tanker performed better during the week. We'll also look at the cost side of the tanker industry by reviewing bunker fuel costs