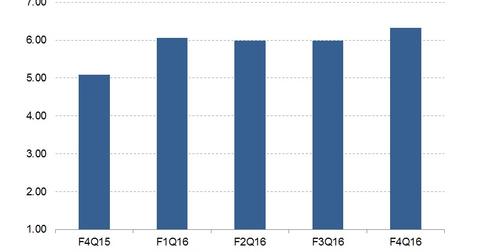 Why Apple Has a Steep Hill to Climb in the Streaming Music Business
By Ruchi Gupta

Updated
Apple Music subscription rises 15%
Apple (AAPL) may be betting on new products such as Apple Pay, Apple Watch, and Apple Music to diversify its revenue streams. However, the company is likely to face an uphill battle in nurturing its streaming music business, Apple Music.
Parsing through the data recently shared by Apple and its rivals suggests that while Apple Music is growing its subscriber base rapidly, it still trails the growth rate of its primary rival—Spotify.
Apple recently said that globally, Apple Music's paid subscriptions had reached 20 million. This figure suggests a growth of 15% within three months, considering that the company reported 17 million paying Apple Music subscribers in September 2016.
Article continues below advertisement
According to Fortune, the company added that the majority of Apple Music subscribers are based outside the US and that its customers stream the service from more than 100 countries. Apple reports Apple Music revenues under its Services segment, which also include Apple Pay and the App Store. The company's Services sales rose 24% in fiscal 4Q16.
Spotify exhibits more rapid growth
Spotify seems to be growing its paying subscriber base more rapidly than Apple, giving Apple some reason for concern. Spotify had 30 million paying subscribers in March and reported 40 million paying subscribers in September. This increase marks an additional ~1.6 million paying subscribers in each month between March and September 2016.
However, Apple's update reveals that it only added 3 million subscribers between September and December, or ~1 million subscribers per month. Spotify's rapid growth has led some analysts to speculate that the company could be targeted for acquisition by Facebook (FB) or Alphabet (GOOGL).
Increasing the appeal of Apple Music