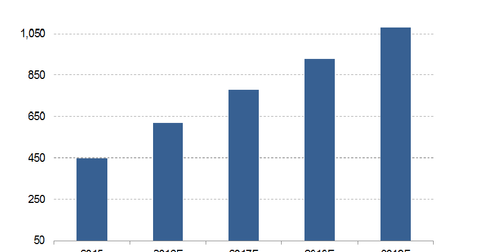 How Is Apple Managing the Apple Pay Rollout Issue in Australia?
By Ruchi Gupta

Updated
Antitrust watchdog backs Apple
Apple (AAPL) is on the verge of clearing a major hurdle to allow a broader rollout of Apple Pay in Australia. The leading banks in Australia tried to force Apple to share Apple Pay access with them before they would support the service. However, Apple refused to grant access to its NFC technology, citing privacy reasons. The lenders then threatened to boycott Apple Pay.
The matter later moved to industry regulator Australian Competition and Consumer Commission (or ACCC), which hinted in a November 29 draft determination that it wouldn't allow the disgruntled banks to give Apple Pay a wide berth.
Article continues below advertisement
The ACCC's ruling brings Apple closer to clearing a major hurdle to making Apple Pay widely available in Australia. Bendigo and Adelaide Bank, Westpac Banking, Commonwealth Bank of Australia, and National Australia Bank had threatened to drop support for Apple Pay if Apple denied them access to its technology.
These lenders control about two-thirds of Australia's household deposits, which meant their boycott of Apple Pay could significantly slow the penetration of the service in Australia—a key market for payment technology vendors. The ACCC is expected to make a final ruling on the dispute between Apple and the banks in March 2017.
Advanced payment technology market
Australia has passed the US in mobile payment technology, making it a promising market for services such as Apple Pay that enable consumers to pay for purchases online and in-store using their handsets.
Apple Pay is one of Apple's bets to diversify its revenue streams and break its over-reliance on iPhone sales. However, Apple faces competition for the mobile payment market from companies such as Alphabet (GOOGL), Samsung (SSNLF), and PayPal (PYPL). Amazon (AMZN) is also keen on nurturing its in-house payment service rather than tapping into a third-party platform such as Apple Pay.