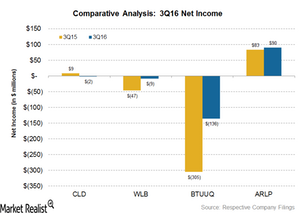 Analyzing Major Coal Mining Companies' Reported Net Income in 3Q16
By Sheldon Krieger

Dec. 20 2016, Updated 7:35 a.m. ET
Net income
The majority of coal (KOL) mining companies witnessed losses during 3Q16. However, Alliance Resource Partners (ARLP) remained profitable. Cloud Peak Energy reported a net loss of ~$2 million compared to a net income of $9 million in 3Q15.
However, the losses of other major coal mining companies such as Peabody Energy, Arch Coal, and Westmoreland Coal narrowed on a YoY basis. Peabody Energy (BTUUQ) reported a net loss of $136 million compared to a loss of $305 million in 3Q15.
Westmoreland Coal's (WLB) losses narrowed from $47 million in 3Q15 to $9 million in 3Q16. Alliance Resource Partners's (ARLP) net income came in at $90 million, up from $83 million in 3Q15.
Article continues below advertisement
What helped Alliance Resource Partners?
According to ARLP's company filings, the year-over-year increase in net income was mainly due to record high shipments in 3Q16. Also, the absence of equity in the loss of affiliates and asset impairment charges when compared to 3Q15 resulted in higher net income on a YoY basis.
ARLP reported equity in income of affiliates at $1.1 million for 3Q16 against a loss of $17.2 million in 3Q15.
Off-balance-sheet risk
Off-balance-sheet risks include self-bonds and surety bonds. Recent bankruptcies in the coal (KOL) mining industry heightened regulatory pressure on reclamation bonding and self-bonding in particular. This could require major coal mining companies to maintain sufficient collateral in place to meet these obligations.
Surety bonds are backed by collateral and could have a negative impact on the liquidity position. On September 30, 2016, Cloud Peak Energy posted $449 million in the form of surety bonds, the highest amount.
Cloud Peak Energy (CLD) is closely followed by Westmoreland Coal's $384 million. Peabody Energy and Alliance Resource Partners posted $320 million and $234 million, respectively, in the form of surety bonds. Among the major coal mining companies, Arch Coal (ARCH) posted the lowest surety bond value of $188 million.
Next, we'll look at the leverage and liquidity positions of major coal mining companies at the end of 3Q16.