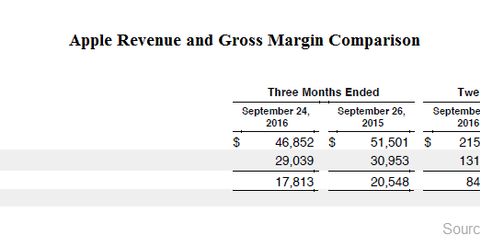 Will Donald Trump's Election Victory Impact Apple Stock?
By Adam Rogers

Updated
How did Trump's election affect the market?
The United States is gearing up for Republican Donald Trump to take the oath as its 45th president on January 20, 2017. Although Trump's victory sparked an initial selling spree on Wall Street, the markets recovered. Investors in various sectors are contemplating what a Trump presidency could mean for their investments.
Job theft is one of the repeated concerns expressed by Trump in his campaign speeches. Trump believes that countries such as Mexico, China (FXI), India, and Singapore are responsible for job losses in the US (QQQ).
During a pre-election rally in Tampa, Florida, on November 6, 2016, Trump stated, "America has lost 70,000 factories since China entered the World Trade Organization, another Bill and Hillary backed disaster. We are living through the greatest jobs theft in the history of the world."
Article continues below advertisement
35% tariff on imported goods
Trump also suggested imposing a 35% tariff on imported goods. In March 2016, the CEO of Hewlett-Packard Enterprise (HPE), Meg Whitman, stated that such a large tariff "would sink this country into a recession. It would penalize global companies who are trying to be competitive globally."
A large percentage of materials for Apple (AAPL) products are sourced and assembled outside the country, and imposing a tariff on imported goods would negatively impact the company's gross margins. Apple's gross margins fell from 39.9% in fiscal 4Q15 to 38% in fiscal 4Q16.
Earlier in 2016, Trump had encouraged his supporters to boycott the iPhone and switch over to Samsung (SSNLF) when Apple denied the FBI access to its encryption code. Multinational firms such as Apple pay taxes on foreign income that is repatriated to the United States.
However, Trump proposed levying a tax on foreign earnings, whether these earnings were brought back or not. This would also negatively impact several firms such as Google (GOOG), Microsoft (MSFT), and Amazon (AMZN).
The biggest tech losers on November 10 included Netflix (NFLX), Amazon, Facebook, and Apple, with losses of 5.3%, 5.1%, 5.2%, and 3.3%, respectively.