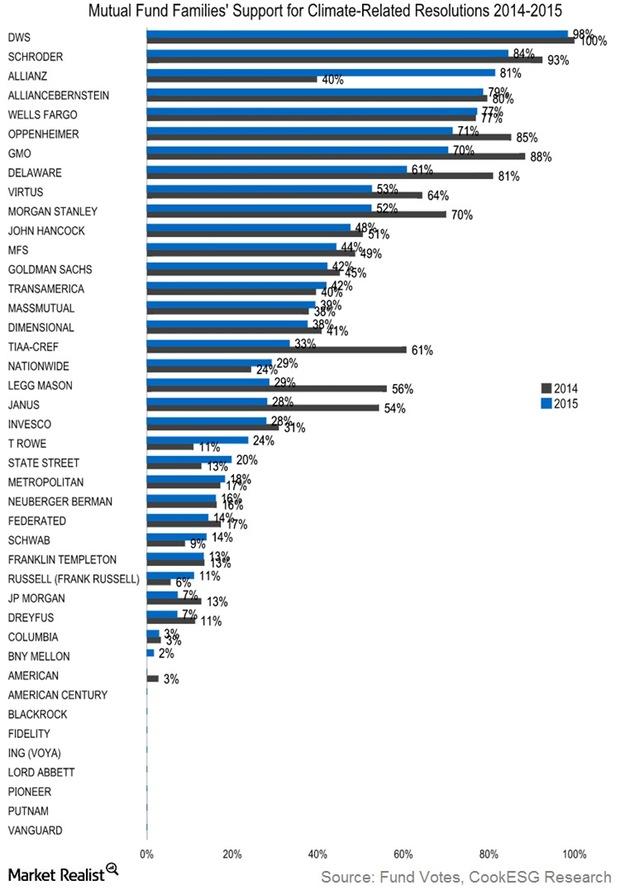 Mutual Fund Bigwigs Inactive Regarding Environmental Issues
By David Ashworth

Nov. 1 2016, Updated 6:04 p.m. ET
No participation
A study by CookESG Research's Fund Votes in March 2016 showed how mutual fund companies voted on climate change resolutions. Let's take a look at the result of their study.
What's interesting to note is that some of the largest mutual fund companies such as BlackRock and Fidelity didn't support even one climate-related shareholder resolution in 2015.
The study noted that seven fund companies, including Alliance Bernstein, Allianz, Deutsche (formerly DWS), GMO, Oppenheimer, Schroder, and Wells Fargo supported 70% or more of the 73 climate-related resolutions.
Article continues below advertisement
Divided fund houses
Fidelity believes that a company's management is responsible for managing environmental issues. Meanwhile, BlackRock is of the opinion that it's not its role as an asset manager "to make social, ethical or political judgments on behalf of clients."
On the other end of the spectrum are fund companies such as Oppenheimer. The asset manager's voting policy states that it supports those environmental proposals that have a "discernible positive impact on short- or long-term share value" of a company.
This divide is reflective of the feeling regarding the impact of ESG (environmental, social, and governance) criteria on investments. While some asset managers are whole-heartedly for it, other larger asset managers, in many cases mutual fund asset managers, don't see evaluating or participating in these issues as part of their roles.
For the asset management industry to have a loud enough voice to influence companies to become more sustainable and green, it's important for large asset managers to be convinced of the impact of environmental and other issues.
While it remains to be seen whether some of the above-mentioned larger fund houses will come on board, you can make part of your investment socially responsible by investing in ETFs such as the Falah Russell-IdealRatings U.S. Large Cap ETF (FIA), the iShares MSCI Global Impact ETF (MPCT), the Vident Core US Equity ETF (VUSE), the Organics ETF (ORG), and the Columbia Sustainable International Equity Income ETF (ESGN), among a plethora of others.