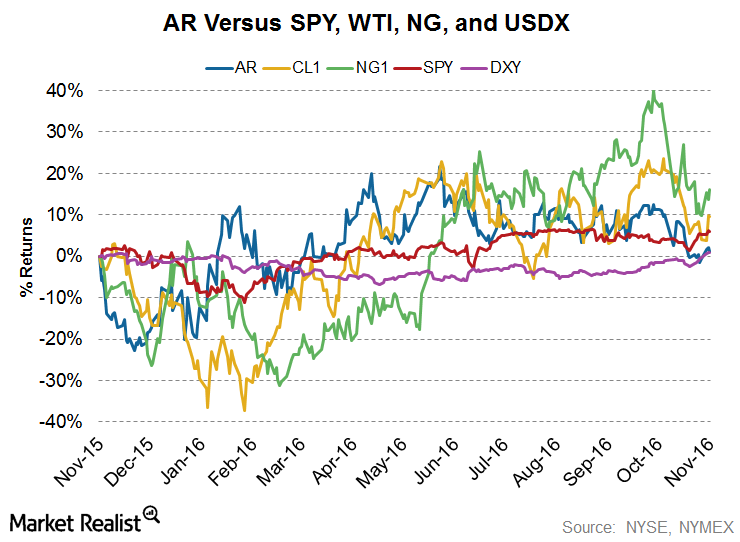 What Are the Key Drivers of Antero Stock?
Antero Resources' stock drivers
In this part of the series, we'll compare Antero Resources' (AR) stock movements to movements in the broader market, crude oil prices, natural gas prices, and the US Dollar Index (or USDX).
As we noted previously in this series, AR stock has risen almost 1.0% year-over-year. Its peer Noble Energy (NBL) has fallen 1.0%, and Rice Energy (RICE) has risen 54.0% year-over-year. All these companies combined make up ~4.0% of the iShares US Oil & Gas Exploration & Production ETF (IEO).
Article continues below advertisement
Recent trends
Recently, AR stock has been on a downward trend, while natural gas prices continue to remain volatile.
The correlation coefficient between AR stock and natural gas prices from November 2015 to the present is ~0.32. This correlation indicates a strong positive correlation between the two. The above graph shows that AR stock has had lower returns than natural gas and crude oil on a year-over-year basis.
Compared to the broader market S&P 500 ETF (SPY), AR has underperformed. SPY has risen ~6.0% since November 2015. As you can see in the above graph, AR is negatively correlated to the USDX. Since November 2015, the USDX has risen 0.98%.
To see how AR stock has performed since its IPO (initial public offering) in late 2013 and see its moving averages, read How Has Antero Resources Stock Fared in 2016?