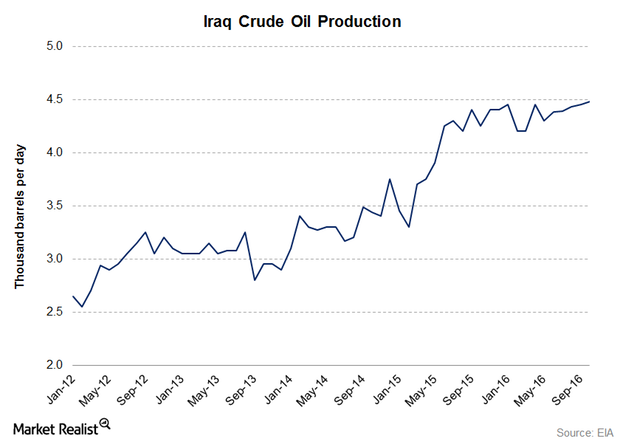 Iraq's Crude Oil Production Is Important for OPEC
Iraq's crude oil production
Iraq is OPEC's (Organization of the Petroleum Exporting Countries) second-largest producer. The EIA (U.S. Energy Information Administration) estimates that Iraq's crude oil production rose by 30,000 bpd (barrels per day) to 4.48 MMbpd (million barrels per day) in October 2016—compared to the previous month. Iraq's crude oil production was at 4.25 MMbpd in October 2015. Production rose 0.7% month-over-month and 5.4% year-over-year.
Article continues below advertisement
Iraq's crude oil exports 
Iraq's crude oil exports averaged between 102 MMbbls (million barrels) and 104 MMbbls per month between August 2016 and October 2016. Its crude oil exports to China, India, and the US fell significantly in October 2016. On the other hand, crude oil exports to South Korea and other smaller importers rose for the same period. Iraq's Ministry of Oil reported that the revenue for crude oil accounts for 95% of Iraq's budget. Read How Are Oil Prices Squeezing OPEC Members' Budgets? to learn more.
Iraq and OPEC 
On October 25, 2016, Iraq's oil minister said that Iraq won't participate in OPEC's plans to cap production. The country plans to produce more oil to fight militants. On November 20, Iraq's oil minister said that he was optimistic about a deal in OPEC's meeting on November 30. For more on OPEC's meeting, read Part 1 of this series.
Impact on crude oil producers 
The expectations of a rise in crude oil production from Iraq will have a negative impact on crude oil prices in the oversupplied market. Low crude oil prices impact major Middle East oil producers like Iraq National Oil Company, Saudi Aramco, National Iranian Oil Company, and Oman Oil Company. They also impact US oil and gas exploration and production companies like Warren Resources (WRES), ConocoPhillips (COP), and Bonanza Creek Energy (BCEI).
The rise and fall in oil prices impacts ETFs and ETNs like the VelocityShares 3X Inverse Crude Oil ETN (DWTI), the Vanguard Energy ETF (VDE), the ProShares Ultra Bloomberg Crude Oil (UCO), the First Trust Energy AlphaDEX (FXN), and the Direxion Daily Energy Bear 3x (ERY).
Next, we'll analyze Russia's crude oil production ahead of OPEC's meeting.