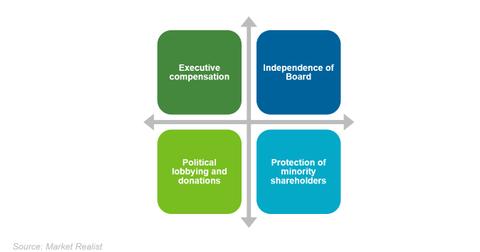 Governance Factors That ESG Criteria Help Evaluate
By David Ashworth

Nov. 1 2016, Updated 4:04 p.m. ET
ESG criteria
Earlier in this series, we noted that socially responsible investing is done on the basis of environmental, social, and governance (or ESG) criteria. Analysts look at the operations of a company from these three perspectives to evaluate its standing among its peers. Given their mandate, analysts use different strategies to invest in companies when making use of ESG criteria.
It's important to note that a given issue cannot be strictly classified as either environmental, social, or governance-related. In the previous article, we looked into social issues. Let's turn our attention to governance issues.
Article continues below advertisement
Governance issues
Some issues considered under the governance criterion when evaluating a company's products and practices are:
executive compensation
independence of board
bribery and corruption
political lobbying and donations
board diversity and structure
protection of minority shareholders
Most of the above governance issues have been highlighted by the Principles for Responsible Investment.
There are several examples of governance-related issues, the more popular being Enron and WorldCom, previous behemoths in their sector. Though their eventual demises weren't solely governance-related, if cognizance of governance-related issues had been taken, several investors could have saved a significant amount of money.
Intertwining issues
As we've seen in the two previous articles and the present one, many of these issues are intertwined. For instance, though the emissions scandal at Volkswagen (VLKAY) is an environmental issue, it has a social impact due to its hurting customer satisfaction and product misselling. Governance-related mismanagement comes to the forefront as well.
Some ETFs that focus on governance factors are the Vident Core US Equity ETF (VUSE), the Vident International Equity ETF (VIDI), and the Vident Core US Bond Strategy ETF (VBND). The iShares MSCI USA ESG Select ETF (KLD) is a broad fund focusing on the entire ESG spectrum.
In the next article, we'll look at the Enhanced Analytics Initiative, which was a predecessor to the Principles for Responsible Investment.