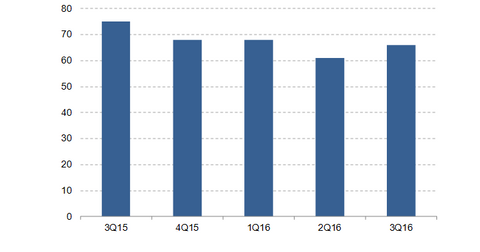 Can Zynga Get More Players Interested in Its Games?
By Ruchi Gupta

Nov. 9 2016, Published 2:26 p.m. ET
Revenue falls 6.8%
Zynga (ZNGA) has witnessed a string of challenging quarters amid tough competition in the digital games market and efforts to move away from desktop to mobile platforms. In 3Q16, Zynga reported EPS (earnings per share) of -$0.05 on revenues of $182.4 million, which fell 6.8% and missed the consensus estimate of $187.2 million.
This 6.8% fall in revenues reveals a company that is struggling to grow its user base. Zynga grew a popular base of users through its partnership with social media companies like Facebook (FB). But its fortunes have begun to reverse as gaming shifts to mobile and as the market becomes crowded by rivals frequently releasing new titles.
Zynga finished 3Q16 with 66 million monthly active users, which is up from 61 million in 2Q16 but down from 68 million in 1Q16 and 75 million one year ago. But the company reported that its daily active users on mobile rose 1% to reach 16 million.
Article continues below advertisement
All is not lost for Zynga
The chart above shows Zynga's monthly active users in the last five quarters. Despite its user growth problem, Zynga has bright prospects—thanks, in part, to a new breed of leaders. Zynga Chief Executive Officer Frank Gibeau and Chief Financial Officer Gerard Griffin worked for Electronic Arts (EA).
Understanding the importance of keeping users engaged with new captivating products, the new Zynga leadership plans to overwhelm competitors by releasing new games quickly. This year, Zynga aims to launch ten games that could help the company bring back players it lost and steal players from rivals. Aside from Electronic Arts, Zynga also competes with Glu Mobile (GLUU) and Activision Blizzard (ATVI).
Cost curtailment
But user growth is only one problem. Zynga also has to work on its costs as well. The company reported that costs rose nearly 12% in 3Q16, which ate into its bottom line, and its costs keep soaring because it is investing heavily on new games.
In the next part, we'll take a closer look at Electronic Arts.