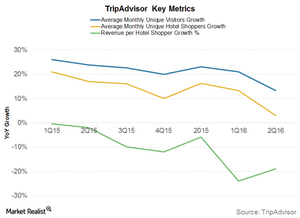 Analyzing Key Metrics for TripAdvisor ahead of Its 3Q16 Results
By Ally Schmidt

Updated
Unique visitor growth flat
TripAdvisor's (TRIP) number of average monthly unique visitors has risen 13.2% year-over-year (or YoY) to 351 million compared to 2Q15. This growth is much slower than the 22% average growth it's seen in the last four quarters. However, sequentially, there's been no growth.
TripAdvisor relies mainly on Google (GOOGL) (GOOG) search traffic. Since Google is planning on entering the travel market, it's placing its own products before TRIP's. As a result, TRIP's traffic has slowed. This also means that TRIP will have to spend more on marketing, which will eat up its margins. We'll discuss this in more detail later.
Article continues below advertisement
Hotel shoppers grow
TRIP's number of average monthly hotel shoppers has risen 3% YoY to 139 million. This, again, is significantly slower than the 16% growth it's seen in the last four quarters. This slowing growth is a huge concern for TRIP, as hotels form almost 80% of its revenue.
It's important to look at the rise in the number of visitors to an online business, as higher visitor growth means a greater potential for future sales and increased word-of-mouth publicity.
Revenue per shopper continues to fall
TRIP's revenue per shopper has also continued to fall—another disturbing trend. In 2Q16, the company's revenue per shopper fell 19%. This fall was slightly better than the 24% fall it saw in 1Q16, and it was mainly due to three factors: lower monetization on the instant booking platform, lower phone monetization rates, and a change in the revenue recognition method, including recognizing revenue at the time of stay rather than at the time of the click.
Outlook
According to TripAdvisor's management's identification, revenue per shopper is the key metric to track going forward. With 81% of TRIP's revenue coming from the hotel business, it's important that the company turns this metric around.
The rise in revenue per shopper is tied to the success of TRIP's instant booking platform. Can this new feature be successful? We'll discuss this in our next article.
TripAdvisor indirectly competes with Priceline (PCLN) and Expedia (EXPE). It recently formed a partnership with PCLN and major hotel chains Marriott (MAR) and Wyndham (WYN). TRIP makes up 1.6% of the First Trust NASDAQ-100 Ex-Tech Sect ETF (QQXT).