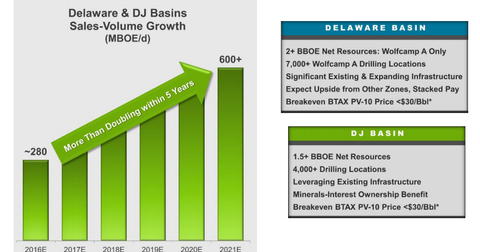 Anadarko Petroleum's Production Expectations in 2016 and Beyond
By Keisha Bandz

Updated
Anadarko's key operational highlights
Anadarko Petroleum's (APC) 3Q16 total production volume reached 72 MMboe (million barrels of oil equivalent). In comparison, its 3Q15 production volumes came in at 73 MMboe.
Article continues below advertisement
3Q16 realized prices
Anadarko Petroleum's average realized price of crude oil (OIL) and condensates fell from $44.45 per barrel in 3Q15 to $42.49 per barrel in 3Q16. Its average realized price for natural gas (UNG) fell from $2.41 per thousand cubic feet in 3Q15 to $2.36 per thousand cubic feet in 3Q16. However, its average realized price for natural gas liquids rose from $16.26 per barrel in 3Q15 to $19.13 per barrel in 3Q16.
2016 production guidance
Anadarko Petroleum provided a divestiture-adjusted 2016 production guidance range of 262 MMboe–264 MMboe. It represents an 8 MMboe midpoint fall compared to the previous guidance range of 253 MMboe–257 MMboe that it provided in March.
The company noted that it will focus on its "world class" assets, the Delaware and DJ basins. Their combined production in 3Q16 was 38% of Anadarko Petroleum's total 3Q16 production. The company noted in its 3Q16 earnings conference that it will "continue accelerating our activities in the Delaware, the DJ as well as growing the Gulf of Mexico in an effort to improve the production and the investment of our company."
Anadarko Petroleum expects to double its production from the DJ and Delaware basins in the next five years. It already accelerated activity in these two regions by adding two rigs each after its Gulf of Mexico asset acquisition.
Anadarko Petroleum 3Q16 earnings release said, "Collectively, these actions and results have streamlined our operations, strengthened our financial position and provide confidence in our ability to deliver a 10- to 12-percent compounded annual oil growth rate over the next five years."