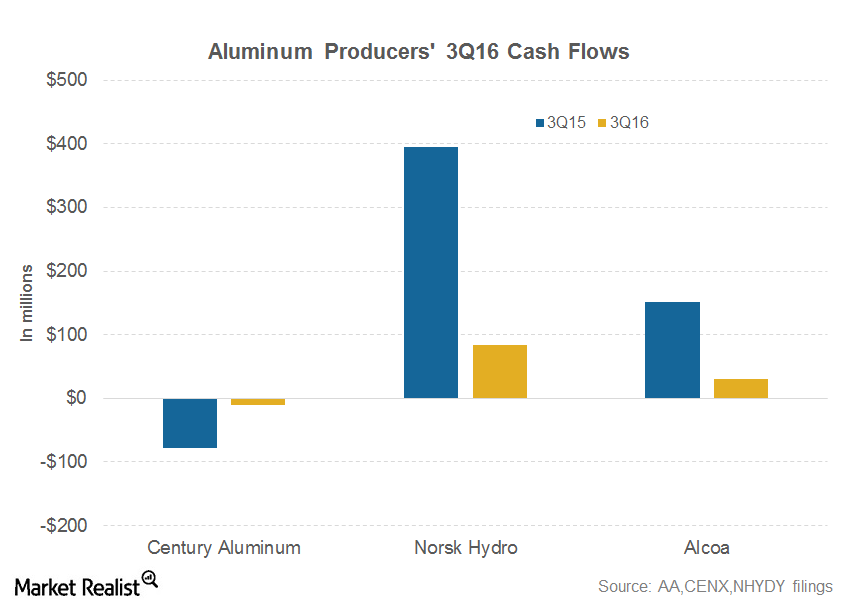 A Closer Look at Aluminum Producers' 3Q16 Cash Flows
Aluminum producers' 3Q16 cash flows
Previously, we looked at aluminum producers' 3Q16 earnings. However, looking given the current challenging situation, the market (DIA) appears to be more interested in cash flows.
Generating negative free cash flow can lead to cash burn. When this happens, companies have to borrow to fund their deficits, and so negative free cash flow only makes things worse in market scenarios like the current one.
Article continues below advertisement
Century Aluminum
Century Aluminum (CENX) generated free cash flows of -$11 million in 3Q16. Higher input costs drove Century Aluminum's negative free cash flows in 3Q16. Prior to 3Q16, the company generated positive free cash flows for two consecutive quarters.
As a result, Century Aluminum generated positive free cash flows in the first nine months of 2016. But we should remember that this included a one-time impact from the Mt. Holly transaction.
Alcoa
Alcoa generated free cash flows of $31 million in 3Q16. The company's operating cash flows totaled $306 million, while its capital expenditure was $275 million for the quarter. We should note that these metrics are for the previously consolidated Alcoa (AA) (ARNC)—from 4Q16 onward, we'll get separate financials for the upstream business as it has now been split into a new company, Arconic. You can read more about this split in Market Realist's series Has Alcoa's Split Lived Up to the Hype?
Notably, Norsk Hydro (NHYDY) managed to generate positive free cash flows of $84 million in 3Q16.
In the next and final part of this series, we'll see what top aluminum executives had to say about the aluminum industry's outlook during their 3Q16 earnings calls.