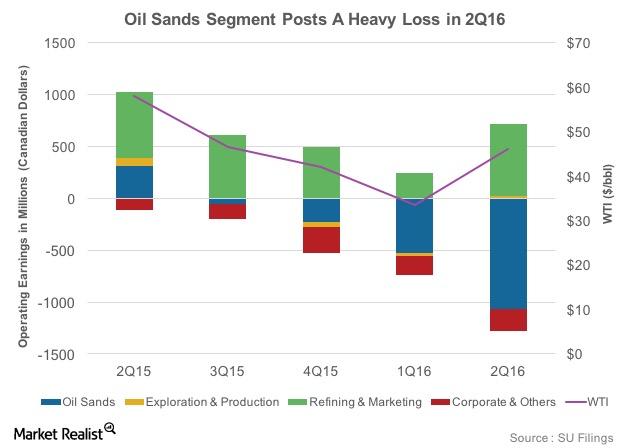 Is Suncor's Outlook for 3Q16 Earnings Positive?
Suncor's segmental earnings trend
Changing oil prices have shifted the segmental dynamics within Suncor Energy (SU). The company's Oil Sands segment, which earned profits in 2Q15, posted a substantial operating loss of 1,063 million Canadian dollars in 2Q16. This was on account of the wildfire that led to lower production and additional costs. Plus, crude oil prices fell year-over-year (or YoY).
The situation is similar for SU's peer BP (BP). BP's upstream segment, which contributed 20% to its URC EBIT (underlying replacement cost and earnings before interest and tax) in 2Q15 contributed 2% in 2Q16. For a detailed cross-sectional analysis of integrated energy companies, please refer to A Look at the Winners and Losers among Integrated Energy Stocks.
Article continues below advertisement
On the other hand, SU's Refining and Marketing segment's operating earnings rose 9% from 2Q15 to 689 million Canadian dollars in 2Q16. The company's overall operating earnings fell from 906 million Canadian dollars in 2Q15 to -565 million Canadian dollars in 2Q16. However, its Refining and Marketing segment has notably resisted this decline.
Suncor's outlook for 3Q16
In 3Q16, Suncor Energy (SU) is likely to witness a fall in its upstream and downstream earnings when compared to 3Q15. WTI (West Texas Intermediate) and Brent prices, which averaged $46 per barrel and $50 per barrel in 3Q15, fell to $45 per barrel and $47 per barrel, respectively, in 3Q16. This drop suggests a likely fall in the company's upstream earnings.
Plus, earnings from the downstream segment are also likely to be lower because the cracks have narrowed in 3Q16 compared to 3Q15. A point in case is the broader market crack indicator, the US Gulf Coast WTI 321 crack, which has fallen from $18 per barrel in 3Q15 to $11 per barrel in 3Q16. Thus, narrower cracks could likely lead to lower earnings from Suncor's downstream segment in 3Q16 over 3Q15.
On a quarter-over-quarter basis, crude oil prices have fallen marginally in 3Q16, and the USGC crack has remained almost flat. However, Suncor's upstream earnings will likely improve in 3Q16 over 2Q16. This is because Suncor's upstream earnings suffered in 2Q16 due to shutdowns from the forest fire.