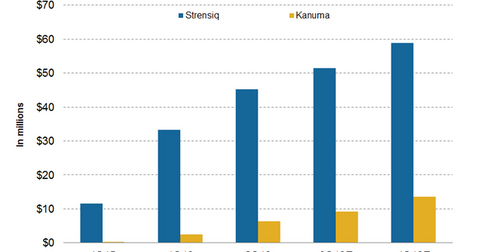 Strensiq and Kanuma: Potential Revenue Drivers for Alexion
By Jillian Dabney

Updated
Strensiq and Kanuma
Strensiq and Kanuma are two acquired products in Alexion Pharmaceuticals' (ALXN) rare disease portfolio. Alexion's acquisition of Enobia gave it Strensiq, and its acquisition of Synageva BioPharma gave it Kanuma. You can read more about these two drugs at How Alexion Plans to Fuel Strensiq Sales and Kanuma Has Now Been Approved in the US.
Strensiq is indicated for HPP (hypophosphatasia), while Kanuma, an enzyme replacement therapy, is indicated for LAL-D (lysosomal acid lipase deficiency). The combined peak sales potential for both drugs is believed to be $1.7 billion.
Once Alexion taps the numbers with these two drugs, its share price will most likely rise. Like Alexion, Shire (SHPG), Sanofi (SNY), and Jazz Pharmaceuticals (JAZZ) have also grown through acquisitions for the sole purpose of expanding their existing portfolios.
Article continues below advertisement
Strensiq and Kanuma revenue projections
Wall Street analysts project that Strensiq's revenues will rise to $51.4 million and $58.8 million in 3Q16 and 4Q16, respectively. Strensiq's contribution would thus reach 7.0% of ALXN's total revenue.
Analysts expect Kanuma to earn $9.0 million in 3Q16 and $13.6 million in 4Q16. Alexion recently announced long-term data from ARISE, Kanuma's ongoing Phase 3 trial. The data showed rapid and sustained improvements in multiple key markers of LAL-D. These results should further support Kanuma's sales.
Alexion's valuation drivers
Alexion's ten clinical development programs and 30 preclinical programs have enriched its valuation. The company plans to either launch six new products or approved indications by 2018. One such major approval could be for ALXN1210, which seems to be Alexion's potential valuation driver. The company expects approval for ALXN1210 for PNH (paroxysmal nocturnal hemoglobinuria) by 2018. You can find out more about this key pipeline candidate at ALXN 1210: Another of Alexion's Important Pipeline Drugs.
To get exposure to Alexion and control excessive company-specific risks, you can invest in the iShares Nasdaq Biotechnology ETF (IBB), which has a 3.9% weight in Alexion.