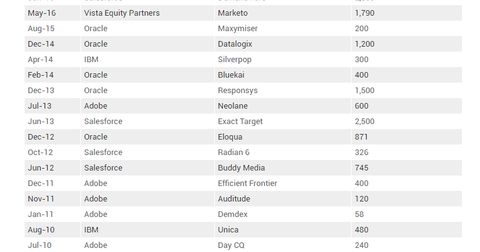 How Salesforce's Commerce Cloud Could Benefit the Marketing Cloud
By Anne Shields

Updated
What attracted Salesforce to the digital commerce space?
Earlier in the series, we learned about Salesforce's (CRM) Commerce Cloud, which the company has developed following its acquisition of Demandware. We also learned that the digital commerce space is expected to become a significant market in the near future.
Various research house estimates confirm Salesforce's expectations. A recent Wall Street Journal report citing IDC (International Data Corporation) estimated that the global market for digital commerce software would rise from $3.8 billion in 2016 to $5 billion by 2018. The report also cited Forrester Research, which estimated that the US B2B (business-to-business) digital commerce market would grow at a CAGR (compound annual growth rate) of 7.7%, from $780 billion in 2015 to $1.1 trillion in 2018.

Article continues below advertisement
Marketing Cloud is Salesforce's next billion-dollar product
We know that Salesforce's Marketing Cloud now encompasses subscription and support revenue from Demandware. Owing to Demandware's dominance in the digital commerce space, Salesforce's Marketing Cloud will benefit. The Demandware acquisition enabled Salesforce to announce that the Marketing Cloud was its next billion-dollar cloud offering. Salesforce's Commerce Cloud could provide a further push to its Marketing Cloud offering.
Though the marketing cloud space is expected to witness growth, competition is also growing rapidly. The above chart by TFM Insights shows the significant acquisitions announced in the marketing technology space by leading technology players such as Salesforce, Oracle (ORCL), Adobe (ADBE), and IBM (IBM). The list doesn't include Oracle's announcements of its AddThis and NetSuite acquisitions.
To know more about Salesforce's competitors, read Salesforce Has These Cloud Service Competitors to Fend Off.