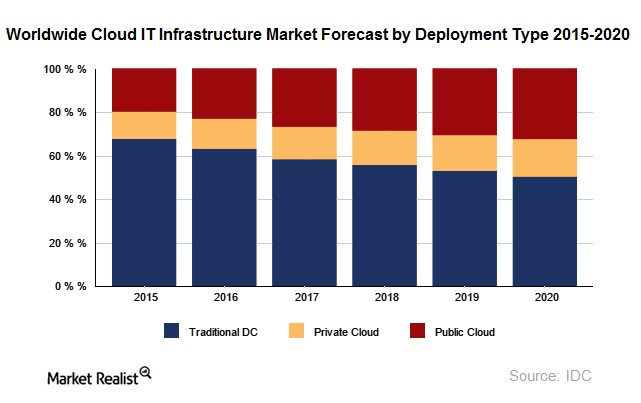 VMware Seeks out Amazon to Boost Its Position in Cloud Space
By Anne Shields

Nov. 20 2020, Updated 10:49 a.m. ET
VMware partners with Amazon to boost offerings
As we already know, VMware (VMW) has partnered with IBM (IBM), which is a leader in the hybrid cloud space to improve its position in cloud especially hybrid cloud space. On the heels of this cloud strategy, VMware announced a partnership with Amazon.com (AMZN), an undisputed leader in the cloud space. VMware-Amazon's alliance is being referred to as "VMware Cloud on AWS."

Article continues below advertisement
VMware targets public cloud space
According to VMware's press release, this partnership is aimed to enable customers of both the companies with an offering to "build and deliver a seamlessly integrated hybrid offering that will give customers the full software-defined data center (SDDC) experience," on the Amazon's AWS (Amazon web services) cloud platform.
This partnership will enable customers to run VMware software on the Amazon's AWS apart from the internal servers. VMware software is comprised of vSphere, Virtual SAN, and NSX. The new offering is likely to be available by mid-2017, whose pricing would be revealed closer to its availability date.
In the recent past, VMware's announced a new offering, Cross-Cloud architecture, which is a bundle of its existing offerings. Cross-Cloud is expected to ease the cloud migration process. Through vSAN, or Virtual SAN (storage area network), which is the company's virtual storage offering, VMware has targeted HCI (hyper-converged infrastructure) space. VSAN is preferred by companies that want to keep their computing and storage in one box. VMware's hyper-converged license bookings rose 200% on a YoY (year-over-year) basis in fiscal 2Q16.
By partnering with Amazon, VMware is aiming for public cloud space because Amazon leads this space. Companies prefer public cloud platforms like Google (GOOG) as most of the services available in public cloud, like applications and storage, are either free or available through a pay-per-use model.
According to a recent IDC (International Data Corporation) report released in October 2016, global spending on public cloud IT (Information technology) infrastructure is expected to grow at the fastest rate, a 15% compound annual growth rate, whereas spending on non-cloud IT is expected to fall at a 1.8% compound annual growth rate from 2015 to 2020.