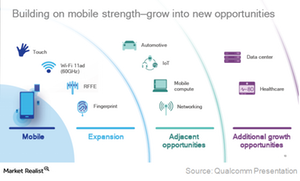 How Does NXP Fit into Qualcomm's Growth Strategy?
By Puja Tayal

Updated
Opportunity in diversity
In the previous part of the series, we learned that the acquisition of NXP Semiconductors (NXPI) would be immediately accretive to Qualcomm's (QCOM) earnings and would give its revenue a much-needed boost.
However, the two companies' business models are diverse. While one manufactures in-house, the other outsources its manufacturing. While one has a compressed customer base, the other has a fragmented customer base. Amid these diversities lie some strategic opportunities for Qualcomm.
Article continues below advertisement
Qualcomm pressed with slow growth opportunities
At present, Qualcomm depends largely on smartphones to earn revenue. However, smartphone sales are slowing. IDC (International Data Corporation) recently revised its smartphone sales forecast for 2016 from a rise of 3.1% YoY (year-over-year) to 1.6% YoY.
Moreover, Qualcomm's two large customers Samsung (SSNLF) and Apple (AAPL) switched to in-house SoCs (system-on-chip), reducing the chipmaker's sales. Qualcomm is rumored to have lost some of its Apple iPhone 7 business to Intel (INTC).
Increasing content per smartphone may not be able to drive growth for long. Hence, Qualcomm has diversified into alternate markets. However, the cost of developing technology is growing with every shrink in the node.
Acquisitions are a faster way to boost growth
As developing technology in-house is slow and expensive, many semiconductor companies have resorted to acquisitions to speed up growth. This is what drove NXP's Freescale acquisition. Following its acquisition of Freescale, NXP's exposure to the automotive market increased. NXP also provides secure payment solutions and is a major supplier for the iPhone.
If Qualcomm acquires NXP, the combined company will have an even broader portfolio of chips for mobile, automotive electronics, IoT, and secure payments.
Where does NXP fit into Qualcomm's growth strategy?
While the two companies' product portfolios would be different, they would also complement each other:
NXP's NFC (near-field communication) radio chips complement Qualcomm's mobile chips.
NXP's automotive and embedded solutions complement Qualcomm's automotive and embedded connectivity chips.
NXP's base station power amplifiers complement Qualcomm's base station processors.
This diverse and complementary product portfolio and the leadership of the two companies in their respective markets would help the combined company to tap a major market and offer comprehensive automotive and embedded solutions.
There's a small overlap between NXP and Qualcomm's ARM-based SoCs, but their target audiences are different. Qualcomm largely sells to high- and mid-end smartphones and tablets, while NXP largely sells to embedded devices.
NXP would significantly increase Qualcomm's exposure to the high-growth automotive and IoT markets and improve its future growth opportunities. Next, let's look at the possible risks involved in this merger.