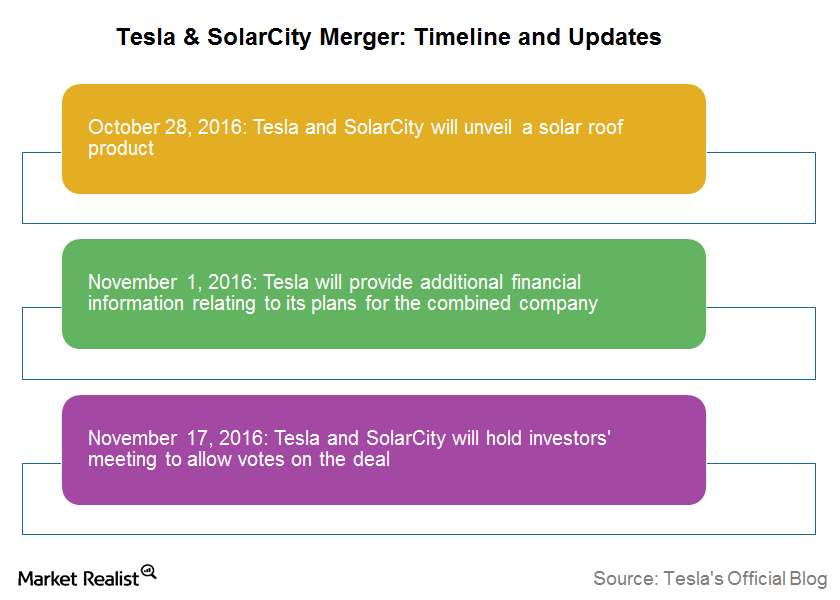 Is Tesla's Bid to Merge with SolarCity Still Haunting Investors?
Tesla's merger with SolarCity
On October 12, 2016, Tesla Motors (TSLA) updated its investors about the timeline to complete its merger with SolarCity. The company will hold its shareholders' meeting on November 17, 2016, to let investors vote on the deal.
In addition, Tesla also suggested that investors can expect further updates in this regard in the coming weeks. The company mentioned in a post on its official blog that "on October 28th, Tesla and SolarCity will unveil a solar roof product, which along with Powerwall 2.0, will show the kinds of products that the combined company will be able to create." Now, let's find out how investors on Wall Street reacted to these announcements last week.
Article continues below advertisement
Stock remains subdued
On Friday last week, Tesla settled at $196.51 without any significant change for the week. After approaching a swing low support at $193.15 in mid-September, Tesla's stock bounced back from these levels. Now, the price is seemingly heading towards the same support level again.
In the week ahead, the price should continue facing stiff support near $193.15. On the upside, the price may find immediate resistance at $200.50 followed by a major horizontal resistance level at $209.20.
Is the deal still haunting investors?
Tesla's investors reacted negatively when the company first revealed its intentions to acquire SolarCity on June 21, 2016. A day after the announcement on June 22, 2016, Tesla's stock closed at $196.66 with a massive loss of 10.5% during the session.
Right now, the company has many challenges to focus on. These challenges include improving production significantly to ensure timely deliveries of Model 3 and speeding up the construction of Gigafactory. At this time, Tesla's bid to acquire SolarCity sounds unrealistic. This shift in focus could be the primary reason that might be taking a toll on Tesla's stock. However, it will be interesting to see whether or not Tesla can prove itself in several fields of business at the same time.
Tesla's strong 3Q16 deliveries
On October 2, 2016, Tesla Motors (TSLA) released its 3Q16 vehicle deliveries and production figures in a press release. The company revealed that it delivered about 24,500 vehicles in 3Q16 with a 70% year-over-year jump from 14,402 vehicle deliveries in 3Q15.
Read on to the next parts where we'll look at mainstream automakers' (XLY) recent price movement and explore what to expect in the week ahead. These mainstream automakers include General Motors (GM), Ford (F), and Fiat Chrysler (FCAU).