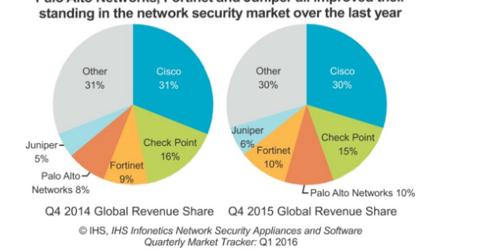 Despite High Cybersecurity Demand, Why Is FireEye's Growth Slowing?
By Anne Shields

Updated
Unlike FireEye, cybersecurity space is growing and expanding
Earlier in this series, we learned that FireEye (FEYE) is plagued with slowing growth. However, if we look at the broader cybersecurity space, the story seems to be different.
Rapid innovation and developments in big data, cloud, and mobile computing are transforming the information technology sector.
The following factors have enabled consumers and employees to access confidential data and information outside original, secure data centers and firewalls:
Article continues below advertisement
SMAC (social, mobile, analytics, and cloud) revolution
BYOD (bring-your-own-device) concept
IoT (Internet of Things), which encompasses computing devices apart from PCs, tablets, and smartphones. IoT makes the Internet accessible beyond desktops and laptops and includes consumer electronics, household appliances, jet engines, and oil rig drills.
Increase in the mobile workforce
In addition to increasing workplace flexibility, a larger mobile workforce has also led to a significant increase in information theft. As a result, companies are either spending billions of dollars in upgrading their systems, or they are entering into partnerships with security firms to protect their data and expand their cybersecurity space.
Research firm Gartner expects global spending on information security technology to grow from ~$77 billion in 2015 to $108 billion in 2019. In November 2015, Bob Ackerman, security expert and founder of Allegis Capital, shared his opinion that cyberattacks will only increase from here. Thus, FireEye's falling growth seems to counter the general trend in the cybersecurity space.
FireEye's offerings face severe competition
FireEye's email security platform block attacks such as phishing, spear-phishing, ransomware, and malware. It faces stiff competition from Proofpoint (PFPT), which provides email security solutions.
In the network security space, FireEye also faces stiff competition from Fortinet (FTNT) and Palo Alto Networks (PANW). FireEye's NX (Network Security) Power, a network security solution, has a maximum bandwidth of 4Gbps (Gigabits per second). In comparison, Palo Alto Networks noted that its PA 7080 firewall "can deliver up to 200Gbps throughput and 100Gbps with all security capabilities enabled."
According to the Network Security Appliances and Software Market Tracker from IHS, the global network security market grew 10% to $8.1 billion in 2015. The chart above shows that Fortinet and PANW leveraged this growth in the network security space by enhancing their market share.