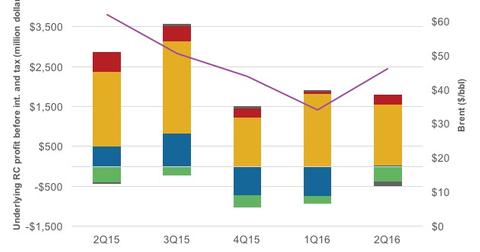 Upstream, Dowstream: We Review BP's Segments' Outlooks
By Maitali Ramkumar

Updated
BP's changing segmental dynamics
Changing oil prices have altered BP's (BP) segment dynamics. The company's Upstream segment, which contributed 20% to its URC (underlying replacement cost) EBIT[1. earnings before interest and tax] in 2Q15, contributed 2% in 2Q16.
BP's downstream URC EBIT fell 19% YoY to $1.5 billion in 2Q16. This was due to the fall in BP's average refining marker margin from $19.40 per barrel in 2Q15 to $13.80 per barrel in 2Q16.  BP's Rosneft segment's earnings fell on a URC EBIT basis. Overall, URC EBIT fell from $2.4 billion in 2Q15 to $1.3 billion in 2Q16. Its Downstream and Rosneft segments saved the day for BP.
Article continues below advertisement
Segment dynamics have also changed for BP's peers. Suncor Energy's (SU) Oil Sands segment earned profits in 2Q15 but posted a loss in 2Q16. For a detailed cross-sectional analysis of integrated energy companies, please refer to A Look at the Winners and Losers among Integrated Energy Stocks. The Vanguard Energy ETF (VDE) has ~38% exposure to integrated energy sector stocks.
BP's 3Q16 segment-wise outlook
In 3Q16, BP (BP) is likely to witness flat Upstream earnings and lower Downstream earnings compared to 2Q16.
Brent crude oil prices, which averaged $46 per barrel in 2Q16, stayed flat in 3Q16. The same level of Brent prices points toward a similar level of BP's Upstream earnings quarter-over-quarter.
The Downstream segment's earnings are likely to be lower. This is because global refining marker margins (or RMM), which are refining margin indicators of areas where BP operates, have narrowed in 3Q16 compared to 2Q16. Global RMM fell to $11.60 per barrel in 3Q16 compared to $13.80 per barrel in 2Q16. All the zones where BP operates have shown deterioration in margins in 3Q16 compared to 2Q16.
However, Brent crude oil prices and global RMM stood at $51 and $20 per barrel in 3Q15, respectively, implying a year-over-year decline in Upstream and Downstream earnings in 3Q16.