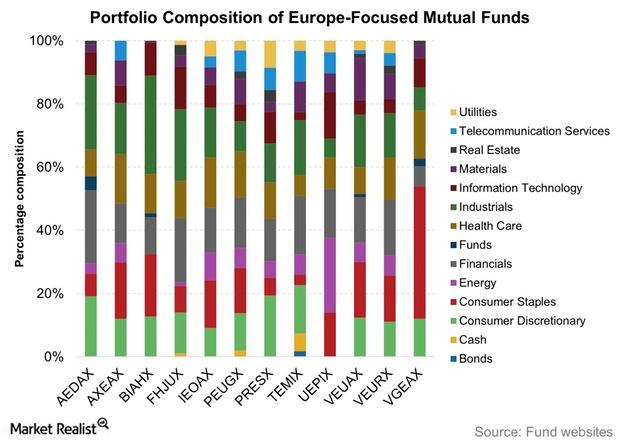 How Should You Approach Investing in Europe-Focused Funds?
Europe-focused funds
In this series, we have reviewed 12 actively managed Europe-focused funds in terms of their sectoral changes over the past three years and the reasons for their performance in YTD 2016. We have looked at the sectoral and stock picks of each fund individually, showing showed you which picks have worked and which haven't.
We also compared the performance of these funds with two ETFs: the Vanguard FTSE Europe ETF (VGK) and the iShares MSCI Eurozone ETF (EZU).
Article continues below advertisement
Portfolio observations
The financials sector continues to be the top-invested sector, with four of the 12 funds choosing it as their most preferred sector. However, the number of funds choosing financials is down from six in the previous quarter.
A general observation regarding portfolio positioning and changes made from the previous quarter is that interest toward financials has waned, while that toward industrials has generally increased.
The future of monetary policy in Europe
The European Central Bank's (or ECB) chief, Mario Draghi, remained firm on the argument that the central bank had not discussed either extending its asset purchase program or tapering it. However, he has made clear indications about tapering, stating that an abrupt end to bond purchases does not seem likely.
It is possible that the ECB may announce an extension of the program for two or three quarters beyond March 2017. This announcement can be made in the December meeting. During his post-policy conference on October 20, Draghi noted that the central bank's decision in December would indicate what could happen going forward. This has given rise to hopes of an extension of the asset purchase program.
While equities (EZU) (FEZ) would generally react positively to an extension, investors in currency hedged ETFs need to take into consideration the movement of the euro (FXE) while deciding whether to stay invested or reallocate to unhedged funds. These ETFs include the WisdomTree Europe Hedged Equity ETF (HEDJ) and the Deutsche X-trackers MSCI Europe Hedged Equity ETF (DBEU). The euro had initially risen, but then tanked against the US dollar (UUP) after the policy announcement.
At this juncture, it is not surprising that funds are moving away from financials. Such firms see their interest income falling due to low interest rates, making them less attractive. There are some actively managed funds that have done better than passively managed ones.
These challenging times can give you an insight into which funds are better managed than others. While a passively managed fund can anchor your portfolio, an actively managed one can provide the alpha that a passive fund may find difficult to provide.
On October 24, we performed a similar analysis on US equity mutual funds. For more analysis on mutual funds, please visit Market Realist's mutual funds page.