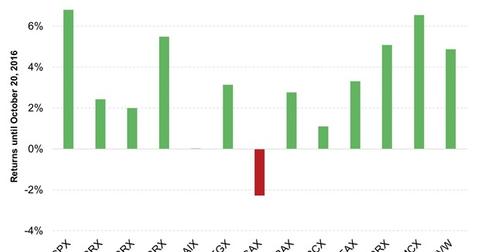 Amid Politics and Rate Talk, How Are US Large-Cap Equity Funds Positioned?
By David Ashworth

Updated
Election, rate cut talk dominates
After the United Kingdom's surprise vote in favor of exiting the European Union—otherwise known as the Brexit referendum—worries about its impact on US financial markets have declined, and global focus has returned to domestic developments. The focus has also shifted to the upcoming US Presidential election on November 8 as well as to potential monetary policies going forward.
Markets are watching closely for signs that may indicate an interest rate increase during the next US Fed meeting on November 2. However, most market participants believe that a rate hike will be effected only after the election, or following the Fed's December meeting. A rate hike is generally considered to be beneficial to insurers, while banks and financials like Citigroup (C), Goldman Sachs (GS), Bank of America (BAC), and JPMorgan Chase (JPM) may or may not benefit from a rate hike.
Article continues below advertisement
US large-cap equity mutual funds
Amid these developments, US stocks and funds (VOO) (RSP) have done very well this year. In this series, we'll look at 12 US large-cap equity funds. But our analysis of these US funds (FMAGX) (IEOPX) will not just be confined to return performance. We'll look in depth into the portfolios of these funds and conduct attribution analysis to see which sectoral and stock picks helped or hurt the funds. We'll also benchmark the performance of the funds to the SPDR S&P 500 ETF Trust (SPY) to see whether active funds have done better than this passive one.
This analysis will help you decide what to do with your holdings. Whether you're investing in these funds for the first time, or whether you want to consider changing your allocation to these funds (if already invested), this series will help you look closely at fund portfolios and decide whether the fund manager has been giving a performance worthy of the fee charged. Remember, you can always decide to invest in passively managed funds and step away from underperforming managers.
We'll begin our analysis in the next part with the American Funds AMCAP Fund Class A (AMCPX).