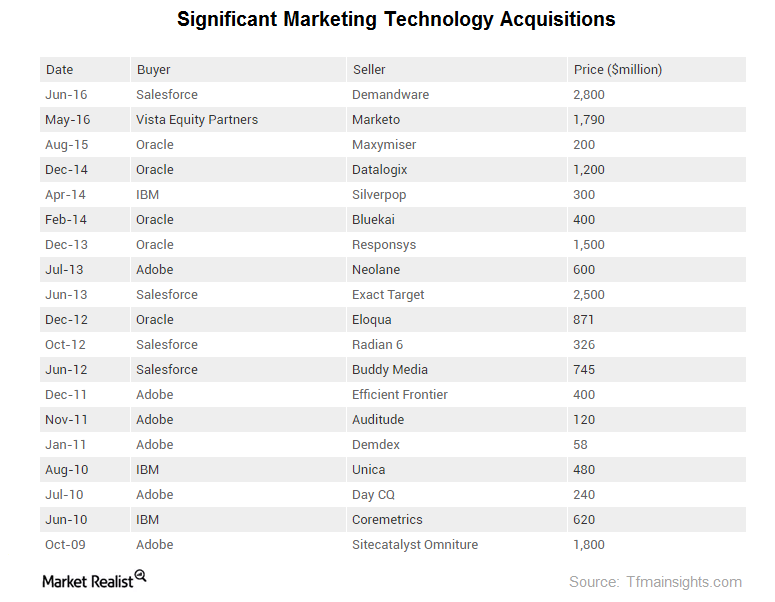 Adobe's Fiscal 3Q16 to Highlight Its Marketing Cloud Performance
Strategic acquisitions and product development boost Adobe's Marketing Cloud
Earlier in this series, we learned that behind the continued growth of Adobe's (ADBE) Digital Marketing segment, the company's Marketing Cloud plays an integral role. The Marketing Cloud's continued growth boosted the entire Digital Marketing segment's revenues despite a consistent decline in LiveCycle and Web Conferencing revenues. Despite the fall, the overall segment grew 12.5% in 2Q16.
Brad Rencher, Adobe's executive vice president and general manager of digital marketing, noted that the company has spent close to $3 billion in strategic acquisitions and product development. These initiatives contributed to the formation and success of Adobe's Marketing Cloud.
Article continues below advertisement
Marketing Cloud is increasingly becoming competitive
The above chart shows the significant acquisitions announced in the marketing technology space by leading technology players like Salesforce, Oracle, Adobe, and IBM (IBM). The list doesn't include Oracle's announcement of AddThis and NetSuite in this space.
Adobe dominates marketing cloud space. Lately, this space is seeing increased competition due to more participation from Salesforce (CRM), Oracle (ORCL), and IBM. The Demandware acquisition has provided a boost to Salesforce Marketing Cloud and now, the company expects a $1 billion run rate from its marketing cloud.
Adobe's leadership position in the Marketing Cloud space made market research firm Stifel suspect that Adobe was the other competitor in the Demandware bidding war with Salesforce. The Demandware acquisition marks the biggest deal in Salesforce's history.
However, Adobe's efforts to gear up in order to acquire Demandware forced Salesforce to pay a premium for Demandware. Salesforce announced the Demandware acquisition for $2.8 billion.
Increasing competition is likely to have propelled Adobe to make the Livefyre acquisition in order to bolster its presence in the marketing cloud space. Livefyre, an audience engagement firm, offers a plethora of tools for companies and brands to engage with their audiences.