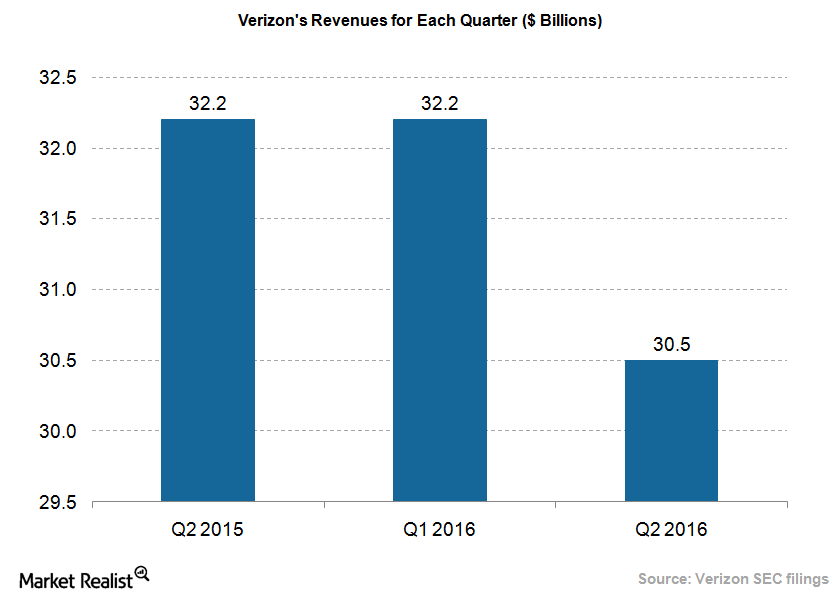 Why Verizon Expects Nominal Growth to Return in 2017
Verizon's fortunes have declined
Verizon Communications (VZ) has been struggling to grow its revenues lately. In the past quarter, its revenues fell 5.3% on a YoY (year-over-year) basis from $32.2 billion in 2Q15 to $30.5 billion in 2Q16. Its EPS (earnings per share) also fell last quarter, driven by a seven-week work halt due to a strike, which impacted EPS by $0.07.
Verizon's major competitors AT&T (T) and T-Mobile (TMUS) had it much better last quarter. AT&T's EPS rose 7%, and T-Mobile produced an impressive YoY revenue growth of 12%. Even Sprint (S) had a much better quarter and managed net postpaid subscribers additions of 173,000, which came at the expense of Verizon and AT&T.
Article continues below advertisement
Verizon optimistic about 2017
However, all is not lost for Verizon. The company hopes that next year will be better, and it expects "GDP-like" revenue growth in 2017. The most important factor for a return to growth would be the migration of majority of its postpaid subscribers to unsubsidized plans. Last quarter, more than 50% of its postpaid subscriber base were on unsubsidized plans for the first time.
Verizon sees several other factors that should add to its growth going forward. The company is banking on the IoT (Internet of Things) business to accelerate going forward. This business grew by 25% last quarter for the company and should become more meaningful next year. Verizon is also optimistic about the tablet business.
Acquisitions
Verizon acquired Internet companies AOL and Yahoo in 2016 and expects them to contribute to its revenue growth going forward. Through these acquisitions, the company is banking heavily on the growth of its video ad market, which it believes will grow at a healthy rate to $180 billion by 2020. This market is currently dominated by Google (GOOG) and Facebook (FB), but Verizon expects to become a significant player.
The company is also expecting improvements in its bottom line, which took a hit from the workers' strike last quarter. The company now expects that the new labor contracts will give it $500 million in cash savings over the contract term.
In this series, we'll take a thorough tour of the latest developments in the telecom space. Let's start with a look at Verizon's Services segment.