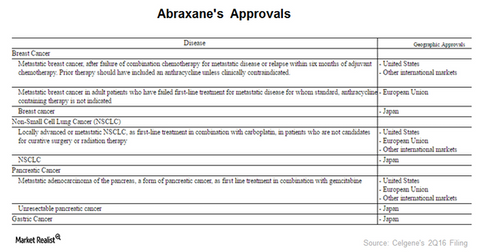 When Will the Generic Version of Abraxane Be Available?
By Jillian Dabney

Sep. 9 2016, Updated 7:04 a.m. ET
Abraxane, a chemotherapy treatment
Celgene's (CELG) Abraxane, which is a chemotherapy treatment, received its first approval from the FDA to treat breast cancer in 2005. In 2012, it was approved for treating non-small cell lung cancer (or NSCLC).
In 2013, it was approved for the indication of metastatic pancreatic cancer in combination with gemcitabine. The drug is a standard of care in pancreatic cancer patients in the US.
During the second quarter of 2016, Abraxane's revenues grew by 2.2% to total $249 million. For details on the drug's revenue drivers, please read What Will Drive Future Revenue for Celgene's Abraxane?
In the oncology space, Celgene competes with Amgen (AMGN), Merck (MRK), and Bristol-Myers Squibb (BMY). Its presence in solid tumor oncology is embraced by Abraxane.
Article continues below advertisement
Abraxane's generic won't be available before 2018
On April 6, 2016, Celgene sued Actavis, which is now Allergan (AGN), as the latter filed an ANDA (Abbreviated New Drug Application) with the FDA. As a result of Celgene's action, the FDA cannot grant approval to Allergan's generic version of Abraxane until the second half of 2018.
As noted by Allergan, it is the first company to file for the copycat version of the chemotherapy treatment.
What are the future growth drivers for Abraxane?
The various ongoing clinical trials on Abraxane include Phase 2 tnAcity trial, I/O combinations in phase 3 and one phase 3 adjuvant pancreatic trial (or apact) trial. Abraxane's phase 3 trial data on NSCLC and triple negative breast cancer is expected in 2017 and 2018, respectively.
Investors should note that the SPDR S&P 500 ETF (SPY) offers diversified exposure to Celgene's growing hemato-oncology franchise. SPY holds 0.44% of its total portfolio in Celgene.
Continue to the next part to understand the opportunities and threats to Celgene's key drug, Otezla.