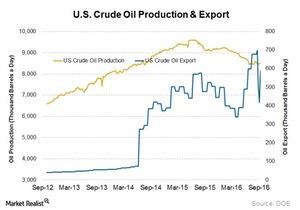 US Oil Export Destinations Widen: The Crude Oil Tanker Benefit
By Sue Goodridge

Updated
US oil production
US oil production has slowly started falling from the highs in 2015. Oil production was 8.51 million barrels per day on September 16, 2016. The last four-week average of US oil production was 8.48 MMbpd (million barrels per day). This is a fall of more than 10% from the high of 9.6 MMbpd recorded in 2015.
Article continues below advertisement
US oil exports
For the past four decades, the United States has banned exporting crude oil (DBO). The ban was lifted at the end of 2015, and now the United States can export oil to other countries. The lifting of the ban is expected to change the trade dynamics of crude oil tankers. This is the first full year in which US crude oil has been available for exports.
Although the United States had a ban on crude oil exports, it still could export to a few countries such as Canada. The last four-week average crude oil exports were 0.55 MMbpd, which was 16% higher than 0.47 MMbpd recorded in the same period last year.
More countries receive US crude oil
According to September's OPEC (Organization of the Petroleum Exporting Countries) report, the number of countries to which the United States exports crude oil rose to 18 in the first half of 2016 compared to 11 in 2015 and nine in 2014. Canada still remains the main destination, but its share has fallen from 92% last year to 60% in the first half of 2016. The United States doesn't export oil to Canada through crude oil tankers, so this fall is actually a good sign for the crude oil tanker industry.
According to the same report, the United States now exports oil to Curacao in the Caribbean, to the Netherlands, and to Western European countries such as the United Kingdom, France, and Italy. These exports have greatly benefited small-sized tankers such as the Aframax. The rates for the Caribbean to the US Gulf route are on the rise.
US crude oil exports are expected to rise further, which will benefit crude oil tanker companies such as Frontline (FRO), Teekay Tankers (TNK), Tsakos Energy Navigation (TNP), Nordic American Tankers (NAT), DHT Holdings (DHT), Gener8 Maritime (GNRT), Navios Maritime Midstream Partners (NAP), and Euronav (EURN).