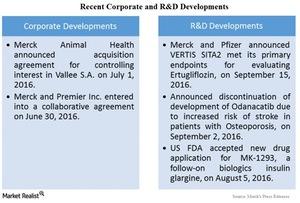 Recent Corporate and R&D Progress for Merck & Co.
By Mike Benson

Updated
Merck's developments
Merck & Co. (MRK) is now focused on developing new products as well as expanding the labels of its existing products. The company's recent corporate and R&D (research and development) progress includes the following:
Article continues below advertisement
Corporate developments
Merck Animal Health announced an acquisition agreement for controlling interest in Vallee, a Brazilian animal health company, on July 1, 2016. Vallee has a portfolio of over 100 products, including various vaccines, parasiticides, and anti-infective drugs.
Merck and Premier (PINC), a healthcare improvement company, have entered into a collaborative agreement to codevelop solutions for improving population health. To start, they're focused on reducing fractures in people with osteoporosis. The agreement was announced on June 30, 2016.
R&D 
On September 15, 2016, Merck and Pfizer (PFE) announced that Vertis Sita2, a Phase III study evaluating ertugliflozin for the treatment of patients with type II diabetes, had met its primary endpoint.
On September 2, 2016, Merck announced that it had discontinued the development of the drug odanacatib, a cathepsin K inhibitor used to reduce the risk of fracture in osteoporosis patients. The drug's development was discontinued due to the increased risk of stroke in patients during its Phase III study.
On August 8, 2016, Merck published the results of C-EDGE CO-STAR, a Phase III study that evaluated Zepatier for use in the treatment of patients with hepatitis C. The study evaluated the use of Zepatier for patients with genotype GT1, GT4, and GT6 infections who were receiving opioid agonist therapy.
On August 5, 2016, the FDA accepted a new drug application for MK-1293, a follow-on biologic insulin glargine for the treatment of patients with diabetes.
Investors can consider ETFs such as the Fidelity MSCI Health Care ETF (FHLC), which holds ~5.4% of its total assets in Merck, ~6.6% in Pfizer (PFE), 3.8% in Medtronic (MDT), 2.8% in Allergan (AGN), and ~3.2% in AbbVie (ABBV).