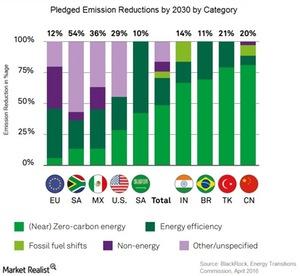 The Paris Agreement: A Multination Plan to Limit Global Warming
By Isabelle Mateos y Lago

Sep. 27 2016, Published 2:39 p.m. ET
Regulatory risks stemming from efforts to combat climate change are also increasing. There was enormous and significant emphasis placed on this topic at the recent G20 summit in China, and China and the United States just jointly announced that they have formally decided to ratify the Paris Agreement, a multi-nation plan to limit global warming. We believe many governments will follow through on their emissions-reduction pledges, and we could see them ratcheting up targets over time. But unlike slow-burning and sporadic physical climate events, regulatory risks are here and now. They can have an immediate — and often negative — effect on cash flows by raising the cost of doing business.
Article continues below advertisement
Market Realist – Paris Agreement to limit global warming
With a spike in global temperatures, many countries signed the Paris Agreement in December 2015. This agreement is intended to limit global warming to less than 2° Celsius (35.6° Fahrenheit) above pre-industrial levels. It will come into effect in 2020 and is intended to reduce greenhouse gas emissions by the second half of the century. Around 200 countries have submitted plans called the Intended Nationally Determined Contributions (or INDCs) to reduce carbon emissions.
The above graph shows the pledged emissions reductions by 2030 by category for some of the countries. Many countries have come up with various solutions to reduce emissions. Developed markets (EFA) (DBEF) such as the European Union (EU) and United States are emphasizing the improvement of energy efficiency. On the other hand, emerging market economies (EEM) such as India and China are focusing on low-carbon power generation such as wind and solar energy.
Article continues below advertisement
Regulatory risks
With the increase in global temperatures and extreme climate change, investors may want to consider regulatory risks. Many governments are focusing on emissions-reduction pledges and energy-efficiency measures. Various new regulatory steps are being undertaken such as carbon taxes and subsidies for alternative energy. These regulatory changes aren't advantageous for all industries. Changes in climate change policy could adversely impact utilities (XLU) (IDU) such as electricity and the fossil fuel–dependent energy sector (IXC) (VDE).
However, renewables could most likely benefit from changes in technology and policy. Regulations could have an effect on a company's cash flows. Regulations also increase the chances of compliance failure as we saw in the recent Volkswagen emission scandal. Compliance failure could also result in legal discrepancies and have an effect on stock market performance (IWM).
In the next part, we'll take a look at the social and corporate awareness of climate change.