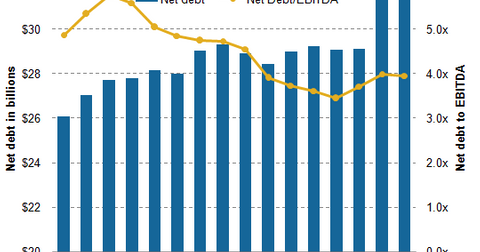 What We Learned by Analyzing NextEra's Credit Profile
By Vineet Kulkarni

Updated
NextEra Energy's credit profile
At the end of the second quarter of 2016, NextEra Energy (NEE) had total debt of $32.3 billion. Its debt-to-equity ratio is now 1.3x, while its debt-to-market-capitalization is 0.6x. NextEra Energy's leverage is expected to inflate even more due to its acquisition of Oncor.
Article continues below advertisement
Earnings
NextEra Energy has a net debt-to-EBITDA (earnings before interest, tax, depreciation, and amortization) ratio of 4x, which is lower than Duke Energy's (DUK) 5x. Its peer Exelon (EXC) has a net debt-to-EBITDA ratio of 4.6x.
Remember, the net debt-to-EBITDA ratio shows how many years it will take for a company to repay its debt given its EBITDA, if debt and EBITDA are held constant.
The utility industry (IDU) is an asset-rich business and involves heavy amounts of debt, and so leverage is an important metric in analyzing utilities. Debt-to-asset ratio represents the proportion of a company's assets that are financed by debt, and it assesses the financial risk of a company. NextEra Energy has a debt-to-asset ratio of 0.4x, which is equal to Duke Energy's ratio. Exelon has a debt-to-asset ratio of 0.3x.
Credit rating
Standard & Poor's Financial Services has a "stable" outlook for NEE with a credit rating of "A-." By comparison, Duke Energy has an "A-"rating and a negative outlook. Exelon has a "BBB" credit rating from S&P, with a stable outlook.