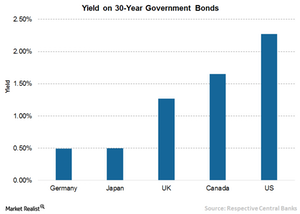 Limited Options for Yield-Starved Investors
By Matt Tucker, CFA

Sep. 26 2016, Updated 6:04 p.m. ET
No perfect answer
What does all this tell us? First off, there just aren't as many opportunities for U.S. investors in international developed bond markets. As we saw in Canada and Europe, yields are low globally. If you want to seek yield, here are two potential choices.
Consider longer maturity, more interest rate sensitive bonds. But the amount of extra yield you pick up for extending maturity may not be that great.
You can go down in credit quality, either by buying lower quality bonds in developed markets, or by moving into emerging market debt. Both options involve taking on increased default risk, and even some of these segments are getting crowded.
Article continues below advertisement
Market Realist – Two potential choices
In short, there aren't many lucrative opportunities available in the international market in this low-yield environment. Yields are very low in all the developed countries, and while they're high in some emerging markets (EMB), they come with huge risk.
Long-maturity bonds (TLT) normally provide higher rates as a cushion against investing for a longer period of time. The 30-year US government bonds currently yield 2.27% compared to 0.58% for the one-year bond. Similarly, the UK government 30-year bond currently yields 1.27%, Germany 0.49%, while Japan's long maturity bond yields 0.5%.
Though the yields on these long-term bonds are higher than short-term bonds, they're prone to huge interest rate and inflation risk. In rising interest rate scenarios, the value of a long-maturity bond falls while the opposite is true when interest rates decline. Long-maturity bonds (CLY)(TLH) are also prone to higher default risk because of the dynamic business environment.
Another option before investors seeking higher yield is to buy lower-credit-quality bonds (HYG) that normally offers better rates but carries a higher risk. Bonds rated BB or lower are considered lower in quality compare to investment-grade bonds. However, higher yields on these bonds are accompanied by huge default risk. According to Fitch Ratings, for the year leading up to June 2016, the default rate of junk bonds hit a six-year high of 4.9%. Energy companies led the pack with a default rate of 15%.
The current default rate in emerging market debt is around 4% while Moody's expects it to exceed 5% by the end of the year. Another potential risk to emerging market debt derives from the offshore nature of their debt. Sharp weakness in their currencies would cause significant stress on their financials.