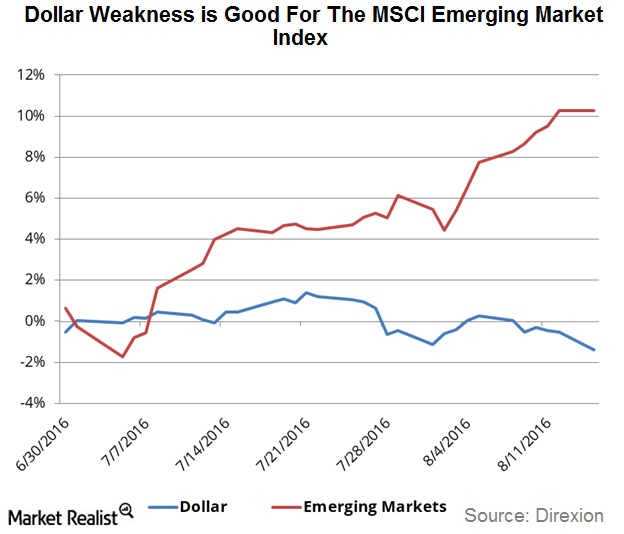 Finding Value in the Rebounding Emerging Market Space
By Shelly Vinson

Sep. 8 2016, Updated 2:04 p.m. ET
The dollar continues to show no signs of strengthening. Quarter-to-date (8/17) the dollar has weakened -1.41%. Current Personal Consumption Expenditures (or PCE) data has been below trailing FED expected levels.  PCE tracks the overall price changes for goods and services purchased by consumers. As of the last report, PCE is at 1.6% below the expected 2.0% level.
Emerging markets political tensions have subsided. The market seems to have recovered from the unexpected/unsuccessful coup in Turkey.  And in Brazil, the political tension surrounding the impeachment of President Rousseff coupled with the excitement of the Olympic Games continues to shed positive light on the region.
MSCI Emerging Markets IndexSM Performance relative to S&P 500 Index
Date range: 7/1/2016 – 8/15/2016. Source: Bloomberg. Past performance is not indicative of future results. One cannot invest directly in an index.
Market Realist – As you can see in the graph above, the rebounding emerging market space has been a factor for better valuations than developed markets (DZK)(EFA) and the weakening US dollar (UUP). Can this growth persist? We think so, especially in the long term.
Article continues below advertisement
Various factors could continue to act as tailwinds for the rebounding emerging market space (EDC). The biggest tailwind is likely the robust fundamentals of emerging market economies (EEM)(VWO). According to the IMF's "July World Economic Outlook," emerging and developing markets are expected to grow 4.1% and 4.6% in 2016 and 2017, respectively. This growth is much higher than advanced economies, which are expected to grow 1.8% in both 2016 and 2017. You can see the forecasts in the graph above.
Moreover, emerging market demographics are much younger than those of the developed world. You can see this trend in the above graph. The graph shows the age dependency ratios of select nations. India is one of the youngest nations in the world. An older population is usually associated with lower labor productivity and lower output. Also, an older population tends to have a higher propensity to save, implying lower consumer spending (XLY). Moreover, entitlement spending is on an upward trajectory as a population continues to age. These factors tend to slow economic output, leading to muted economic growth.
Article continues below advertisement
Changing demographics also affect investor behavior. An aging population is generally risk-averse, which means it tends to favor Treasuries (TLT) and government bonds (BND) instead of equities (ACWI). The growth rates of emerging markets are likely to remain strong moving forward as they continue to age slowly compared to the developed world.
The impending Fed rate hike is unlikely to have as adverse an impact as the taper tantrum of 2013. Firstly, the pace of tightening is likely to remain muted, given the current outlook for global growth. Secondly, as analysts at Deutsche Bank point out, the correlation between emerging market performance and U.S. ten-year yields since 2010 (ignoring the taper tantrum of 2013, when the correlation was -69%) has been positive at a robust 74%. So tightening from the Fed is unlikely to have an outsized impact on emerging market stocks.
Valuations continue to favor EM equities. According to a recent note by BlackRock, "EM equities are trading at a 24% discount to global developed markets on forward earnings multiples". Moreover, as the yields across the globe continue to remain underwhelming, investors are looking to augment their portfolios with income from alternative asset classes. EM bonds and EM equities look to be a good investment option in this regard.