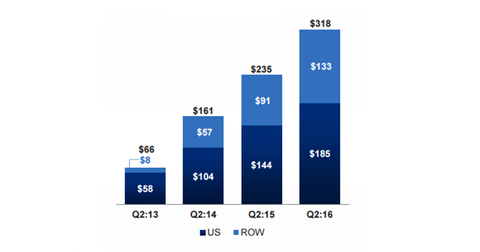 Celgene Carves Out More Share of This Cancer Treatment Market
By Jillian Dabney

Updated
The share of Pomalyst/ Imnovid in the MM market
Pomalyst was approved in the US in February 2013 for treating multiple myeloma (MM) patients in cases where the disease progressed after use of other cancer drugs. Pomalidomide's trade name in the US and Japan is Pomalyst. It's known as Imnovid in the European Union.
Although there has been a rise in the treatment options for relapsed or refractory myeloma, Celgene's (CELG) Pomalyst witnessed a stable third-line share in the MM market during the second quarter of 2016.
Similarly, its share in the second-line treatment grew following the earlier usage of the drug directly after Revlimid and combinations of the drug with traditional as well as new agents. These two elements increased the value proposition and clinical benefits offered by the drug.
Article continues below advertisement
Pomalyst/Imnovid sales in 2Q16
Pomalyst's revenues in the US stood at $184.9 million, translating to a 28.8% YoY (year-over-year) growth on a reported basis in the second quarter of 2016. Its international sales on a reported basis grew by 46.1% in 2Q16 to $132.8 million. For details on Pomalyst's sales projections, please read Pomalyst Continues to Witness Strong Global Demand in 2016.
Pomalyst competes with Amgen's (AMGN) Kyprolis, Bristol-Myers Squibb's (BMY) Empliciti, and Johnson & Johnson's (JNJ) Darzalex.
The stock price of any biotechnology company depends on the success or failure of its late-stage development products, along with the sales growth in its established products. To minimize such direct company-specific risk, you can invest in the iShares Russell 1000 Growth ETF (IWF). IWF holds 0.77% of its total portfolio in Celgene.
Continue to the next part for details on Abraxane, a lung, breast, and pancreatic cancer drug.