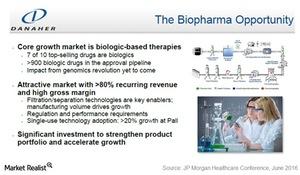 Acquiring Pall Corp. Still Breathing Life into Danaher
By Shannon Black

Sep. 2 2016, Updated 2:49 p.m. ET
Danaher Life Sciences: Financial profile
As discussed previously, Danaher's (DHR) business segments changed after the company spun off its industrial (XLI) businesses to form the independent public company Fortive (FTV) in July 2016. The Life Sciences & Diagnostics segment was separated into two segments—Life Sciences and Diagnostics. Therefore, the data related to the standalone Life Sciences segment is restricted to fiscal 2015 and 1H16.
Article continues below advertisement
After the integration of Pall, the Life Sciences segment is now Danaher's largest unit. The unit was responsible for 22% of the separated Danaher in 2015. In 1H16 the segment represented 31.7% of total company sales. The average organic growth in the segment was 3% in 2015 and 3.5% in 1H16. 50% of Life Sciences revenues are recurring. Pall has a much stickier customer base, with recurring revenues representing three-quarters of the entire Pall unit.
The Life Sciences segment had the lowest operating margins among all units in 2015. However, since the operating margins of Pall were in the mid-teens, the overall margins in the segment improved. The unit had operating margins of 9.9% in 2015 and 14.3% in 1H16.
Trend towards biologics
One of the biggest trends in the pharmaceutical industry (IHE) is the move towards biologic drugs. Small, chemically synthesized molecule drugs are being replaced by complex biologics produced in living cells. The acquisition of Pall has allowed Danaher to increase its presence in this market. It's important to note that biologics, apart from being associated with higher costs of manufacturing and clinical trials, also offer very attractive margins and a strong recurring revenue base. Due to the higher degree of sophistication, their filtration requirements are also huge. This side of Pall's business grows by 20% every year. Peer Roche (RHHBY), the biggest biotech company in the market, derives about 75% of its pharmaceutical business from the biologics market.